With digital marketing dominating many businesses, big organizations, and famous brands globally, many have begun to show tremendous interest in the industry. Therefore, this offers eminent potential to those thinking of pursuing a career
However, the critical questions you need to ask yourself before venturing into the industry are, how good is a career in digital marketing? Is it worth pursuing it? Generally, when it comes to digital marketing, there is minimal doubt regarding its capabilities; however, we need to confirm what other quality makes it more appealing as a career.
Also read: Future of Digital Marketing
15 Reasons Digital Marketing is a good career option
An abundance of choice
It evolves faster
It is flexible
It pays well
It is futuristic
It provides ample time for other activities
It is easier to get your work done
Interaction with different people
Free starting of a career is possible
Provides room for creativity
It makes you stand out
You can travel the world
It provides a path for start-ups
Encourages collaboration and effective leadership
Training at your convenience
Check out the Most Advanced Course on Digital Marketing
1. An abundance of choice
with the continuous creation of jobs in digital marketing as more companies need people to work on platforms such as Google and Facebook, these provide a variety of options from SEO to Social Media. One can select the path to major in the sector and enjoy the full benefits of their chosen job.
2. It evolves faster:
as digital platforms transform, alter, and develop in various ways, there is a need for all the professionals in digital marketing to adapt to the changes. Therefore this guarantees that there is nothing like boredom experienced in this particular field. Also, one expands their knowledge as they learn new trends when there is a specific modification.
3. It is flexible:
as one goes through their career and learns a variety of skills, they can offer their services in different forms. Moreover, with digital marketing, one can work wherever they are and conveniently according to their schedule, hence due to lack of limits, it is one career that makes life easier.
4. It pays well:
everyone has to pay bills and take care of all their essential needs, and to do this, you require a good source of income. A career in digital marketing provides this stability, and therefore taking this path can turn out to be fruitful. Moreover, as you continue to sharpen your skills, the more you will be on-demand and even earn more money.
5. It is futuristic:
the internet since its inception, there has never been a probability predicting that it can vanish. Hence, it is here to stay and for those in digital marketing; the assurance of the security of their job is on point. What's more, for many individuals nowadays, digital marketing is their source of income and will ensure that it continues to the next generations.
6. It provides ample time for other activities:
as automation of various goings-on in digital marketing is more tranquil, this enables one to have time to themselves and also for doing other essential events. Therefore choosing this as your career guarantees that both your personal and social life is not interrupted severely.
7. It is easier to get your work done:
there are several tools that any digital marketer can access to enable their work to be comfortable and practical as compared to other fields. For instance, they are capable of knowing where their target markets are; discern their interests and such just from browsing. Due to this, they can offer highly valued data from the processes and create proper analysis from it.
8. Interaction with different people:
those who love to socialize with people from different places usually find it easier to work in digital marketing. Every day you have to interact with clients and customers from different areas; therefore, digital marketing encourages diversification, and one can learn from the various individuals they deal with within their daily life.
9. Free starting of a career is possible:
it is one of the reasons many shift to digital marketing. One does not need a paper to showcase their capability or sit for an exam for the same goal to consider a career in the field. However, it is essential to note for a full-time professional job in digital marketing, one needs a degree, and it creates even more opportunities than others.
10. Provides room for creativity:
any career grouped within the digital marketing field requires creativity and is always flexible and open room for various experiments. Therefore the use of imagination is essential in the area, and anyone good at it can prosper in this job market.
11. It makes you stand out:
all people have dreams and wish to one day stand out from the crowd and leave a great name someday. Digital marketing is one promising field that can make this wish comes true as many people in this industry usually are recognized for their achievements when they perform a splendid job throughout their career
12. You can travel the world:
many people believe that travel agents are the person who usually gets to tour the globe, well, that is not true as individuals in digital marketing do the same. Especially those in a more prominent organization always get the opportunity to attend meetings held in different parts of the world and meet people with different cultures. Therefore to those digital marketers who love to travel, this is an excellent bonus in their career.
13. It provides a path for start-ups:
for many who choose digital marketing as their career, they often end up as flourishing self-employers. However, it is not easy to reach that point, but it can be possible through continuous learning, commitment, and hard work. Therefore unlike many other careers, the digital platform offers an abundance of opportunities.
14. Encourages collaboration and effective leadership:
many digital marketers have several perks that other careers do not possess. They can work with extensive operations, sales, and such in pretty much every business. Moreover, they have the opportunity to attend several national and international summits so you can collaborate with influential people. Therefore it offers room for more learning and can help infuse leadership qualities in the marketers.
15. Training at your convenience:
the exciting part of digital marketing is that one has the opportunity to train at their convenience and do it wherever you are. Therefore this will later help you in building a good portfolio, and what is essential, it is something that you did at your own pace
Check out the Most Advanced Course on Digital Marketing
Why Career In Digital Marketing is Best In 2021
Digital marketing is the new buzzword on the internet. Although digital marketing has been around since the late 2000s it has gained popularity in the recent past due to the growth of mobile and internet users.
If you are someone from the 90s or early 2000s then you would have surely remembered watching some inspiring TV ads. A few of the great examples of TV ads include the "Thanda Matlab Coca-Cola" "Youngistan campaign by Pepsi" and "Airtel's Har Ek friend zaroori hota hai".
These were the great television ads that inspired us in many ways.
It's hard to find such kind of television ads now, right?
That's because companies and brands have switched to digital. The majority of companies know the fact that digital is the next big thing. That's why most of them are making heavy investments in this field.
Digital marketing not only helps companies in marketing and promotion but can also prove to be a good career option. There are tons of job opportunities available in the field of digital marketing.
LinkedIn alone shows 16,000+ jobs in the field of digital marketing.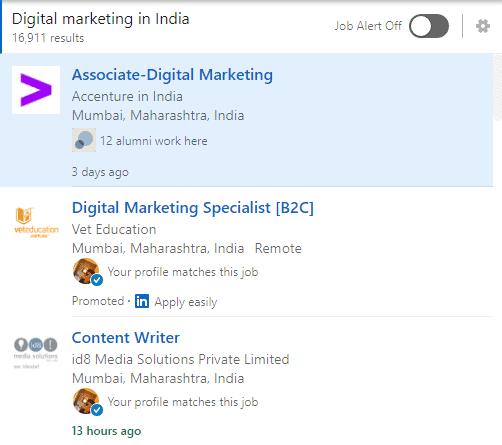 While Naukri.com shows 21680+ jobs in the field of digital marketing.

Hence, it makes clear that making a career in digital marketing, especially in 2021 would be reward-winning.
There are a plethora of job opportunities available in the field of digital marketing and the following are a few:
SEO
This is one of the highest in-demand skills of 2021.
SEO stands for search engine optimization which is the process of optimizing the website and ranking it on Google. As an SEO executive, your task would be to optimize a website and increases its organic traffic from search engines.
You would also need to work towards creating SEO-friendly content and blog posts.
In India, the average salary of fresher SEO executives starts from Rs 15,000 to Rs 20,000.
Paid ads specialist
As the name says, paid ads refer to running online advertising campaigns across various digital channels including Facebook, Google, Instagram, and a lot more. A fresher paid advertisement specialist in India can earn anywhere between Rs 20,000 to Rs 25,000 per month.
Content writer
The next high in-demand job in the field of digital marketing is related to content writing. Content is the currency of the internet and most companies look for talented and creative content writers.
You can also become a freelance content writer and offer your services from any part of the world.
Blogging
Now here comes my personal favorite digital marketing technique and career option i.e. blogging. Blogging can help you in earning millions of money online. Yes, millions of money and I am damn serious about it.
Bloggers like Pat Flynn, Darren Rowse, and Ryan Robinson have already made a million-dollar business out of blogging.
If they can, then even you can make a full-time career in blogging.
Here are some ways by which you can earn money via blogging:
Affiliate marketing.
Ad networks.
Selling online courses and ebooks.
Selling your services.
ORM
This is yet another demanding job in the field of digital marketing. Companies and brands do concern about their online reputation. That's why they are constantly looking for candidates to manage the brand's image online as well as offline.
This is where ORM or online reputation executive comes into the picture.
As an ORM executive, your job would be to manage companies' online presence, online image and deal with an audience online.
Checkout the Most Advanced Course on Digital Marketing
13 reasons to make a career in digital marketing:
Now that you might have got an overview of what is digital marketing and what are the various career opportunities in it.
Let us now understand why you should be making your career in this field.
Good salary package
Who does not like to have a good, cushy, and high-paying job?
Of course, everyone does love to earn more as much as possible. So, if you are one of those, then you should be making a career in digital marketing. I have already talked about various job opportunities available in the field of digital marketing above.
Now let's discuss the money factor involved.
According to Indeed.com, the average salary of digital marketing professionals in India is around Rs 18,000 to Rs 20,000 per month.

That's a great amount to start your professional career with.
Also, the kind of growth opportunities that digital marketing offers is one of a kind. With 2-3 years of experience, you can see get a salary package of 5-6 lakhs in any reputed company.
I personally started my career as a Programmatic ads specialist in one of the most reputed IT companies in Bangalore i.e Accenture. I was minting Rs 25,000 as a fresher.
So, if you learn things properly and give your 100% then you can make a thriving career in digital marketing.
Freelancing opportunities
Don't wanna do a full-time job in digital marketing?
If yes, then start offering freelancing services. After quitting my full-time job, I started blogging and freelancing. And trust, I am feeling like being on top of the world now.
No deadlines, no managers, no need to travel, working on own terms and conditions are some perks of freelancing.
Today, most companies are outsourcing their daily day task to freelancers. Most of these tasks are related to content writer, blogging, digital marketing, SEO, and social media marketing as well.
So, if you have the right knowledge, skill set, and ability to sell services, then freelancing is your cup of tea.
Build your portfolio and create a profile on freelancing sites like Upwork and Fiverr.
You can also leverage LinkedIn to find clients, leads, and prospects.
Opportunity for make money online
Now here comes one of the biggest benefits of digital marketing, especially for newbies, freshers, and students. Digital marketing has got so much potential in it that it can help you in earning money online.
Sounds impossible, right?
It can happen with the help of blogging. Blogging is a platform that changed the lives of many including mine. It helped me in making money online. You don't believe me.
Here's the screenshot of my Paypal account:

I know, I have a long way to go. But this proves that blogging can help you in making money online.
Here are the ways by which you can make money via blogging:
Affiliate marketing.
Adnetworks.
Selling paid courses like ebooks, PDFs, and video lectures.
Selling your own services.
Tons of career options available
5-10 years back if you would have been laughing after reading this blog post on career options in digital marketing. A few years back, digital marketing jobs were quite less as compared to jobs for IT engineers.
Back then, IT was a booming sector. But tables have turned now and digital is the new buzzword in the world of the internet.
Today, there are tons of job and career options available in this field to make a thriving career.
Following are the opportunities available in the field of online marketing:
SEO
PPC analyst
Email marketing
Programmatic ads
Blogging
Content writing
Social media marketing
Online reputation management
Amongst all, you can think of making your career in any one of these digital marketing channels.
Work from home opportunity
I hated my first job which required me to travel 2 hours daily to reach my office and back home. That's why I thought of something doing that would help me in earning money from home.
I did research and came to know about blogging and digital marketing. I immediately decided to learn both of these skills and since then I am from home for more than 2 years now.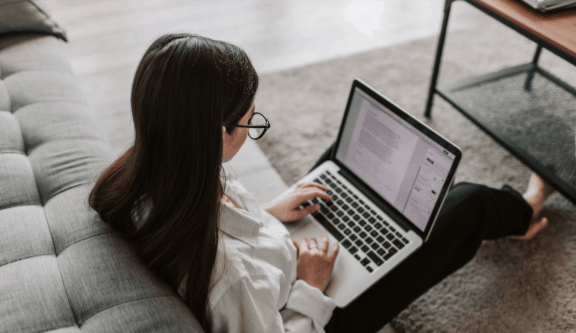 Digital marketing and blogging have provided me the opportunity to work on my own terms and condition.
Now I can wake at any time, I don't need to travel, there are no silly targets and deadlines.
That is a dream life for many, right?
So, if you want to live such kind of life then switch to digital.
Booming career option
I already said that 10 years back IT was a booming career option in India. But now, digital marketing is the next big thing. There are a plethora of job opportunities available in this field of which I have already mentioned above.
Also, the job market in this field won't dilute in the coming 10-15 years. That's because the number of internet users is growing at the pacing rate. People are spending more time on social media and the internet rather than watching daily soaps on television.
Brands are well aware of this fact and that's why are making heavy investments in digital marketing.
With that in mind, companies would also hire quality digital marketing who plan and execute award-winning marketing campaigns.
Easy to learn and explore
You might be thinking that digital marketing might be too technical to learn, especially SEO and WordPress, right?
But trust me, even a 10th-grade student can learn and master the art of digital marketing. You just need to have passion and hunger for learning and things will surely turn your way.
If you want to learn digital marketing then you can enroll in any paid online course. If budget is your constrain then start reading blogs and watching videos on YouTube.
Follow blogs like Neil Patel, Backlinko and Search Engine Land.
I personally learned about digital marketing by starting my own blog.
No prerequisite requires
Yes, it requires no pre-requisite to make a career in digital marketing. Whether you are from commerce, science, or arts background, you can learn and master digital marketing if you want to make a career in it.
Unlike the engineering and IT field, digital marketing is quite flexible. It has no entry barrier. This means, anyone irrespective of their educational background, skill and knowledge can learn digital marketing.
I am personally a mechanical engineering graduate and learned digital marketing because I was passionate about it.
Certification opportunities
Whether you agree or not, but certifications are extremely important in your professional career. They'll not only set you apart from others but will also give an indication to your employer that you are truly a master in a particular field.
It will help you in establishing your professional credibility in the minds of others.
So, if you are looking forward to collecting tons of certifications for personal as well as professional growth, then digital marketing should be your go-to choice.
This field has got tons of certificates and add-ons that you can collect and showcase your professional credibility.
Following are some digital marketing certificates that you must have:
Google Adwords.
Google analytics.
Google digital garage.
Google shopping ads.
Facebook Blueprint certificate.
Hubspot certification
Do you want to transform your business into a brand by getting a feature-rich and interactive business website? If the answer is yes, then web development services from StickyPins.Inc is your way out.
Recession proof industry
Let's face it. Because of the COVID-19 situation all across the globe, many businesses went downhill. The news about financial losses, job losses, layoffs by companies is very frequent nowadays.
Despite such uncertainties and recession, their many industries that have survived during the time of COVID-19 and digital marketing is one of them.
Yes, there were fewer job opportunities in 2020 but not in the field of digital marketing.
Even if you search on job portals, then you'll come across tons of job openings available in this field.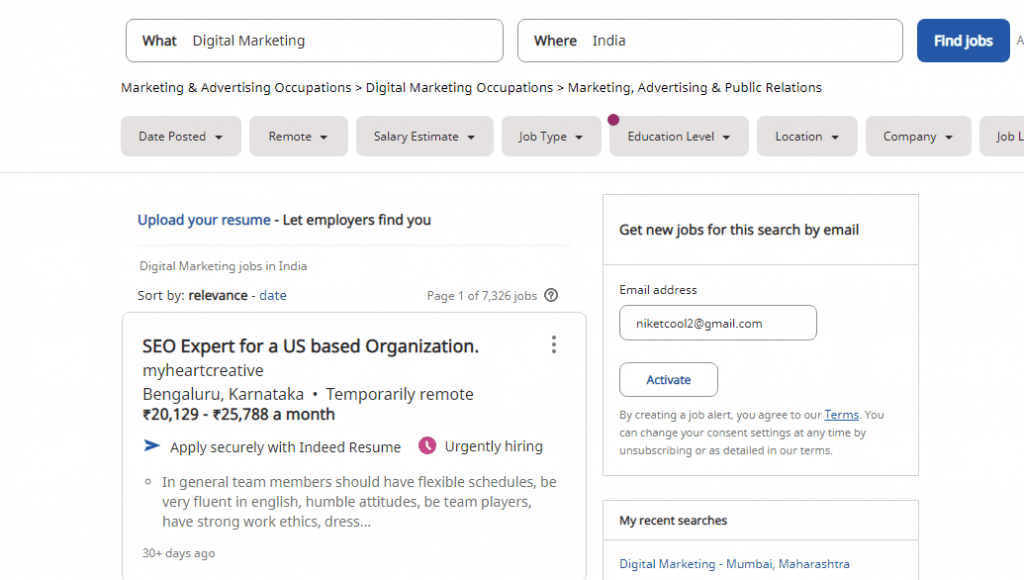 So, if you opt to make your career in this field, your job will be always safe and secure.
No specific time to learn
In order to make a thriving career in engineer or management, you need to complete your engineering degree at 21 or get an MBA at 26. However, there is no such compulsion required when it comes to digital marketing.
At any point in time, you can think of making a rewarding career in digital marketing.
Digital marketing has age no bar. Whether you are a graduate or not, you can still learn digital marketing and make your career in it.
I personally know a few digital marketing and bloggers who are not even graduate but still minting huge money in this field.
With the right knowledge, skill set, and hardwork, you can do the same.
Grow your business
Maybe you run a business but that does not seem to be growing. Or, maybe you might not be putting in the right efforts to grow your business. If this is the case, then you should start using digital marketing.
Yes, digital marketing can also help you in growing your business.
In fact, businesses all across the globe are leveraging the power of digital marketing for growing their business.
So, if you want to take your business to the level of awesomeness, then start applying digital marketing techniques for your business.
Start your own agency
This is one of the best options available, especially in 2021. The digital marketing industry is in full swing and this is the best time to start your own agency. If you ever had a plan of setting up your own business, then a digital marketing agency should be your go-to choice.
I have already mentioned that most companies and brands are outsourcing their digital marketing operations.
This is where your agency comes into the picture.
You can get those clients who are looking for digital marketing services and help them to grow their business.
Conclusion:
A career in digital marketing is highly lucrative and rewarding if you play your cards wisely. You also need to understand that digital marketing is not a get-quick rich scheme.
Of course, you can make millions in this industry but hard work and patience are required.
So, make sure that you keep in mind all the 13 reasons mentioned in this blog post and then make a decision on making a career in digital marketing.