Things to Consider before choosing a digital marketing training institute in chennai.
1) Industry Certified Experts
Learning from experts has distinct benefits. One of them is that most faculty of reputed digital marketing institutes come with certifications. These are coveted and hard to earn. They are certified by bigwigs such as Google. Certified professionals know the latest pulse of the industry. They are aware of the best tools and techniques in the field. Learning from them makes your skills relevant to the current industry. You don't risk learning outdated methods and tools.
2) Exposure to Latest Trends and Tools
To find a footing in the digital marketing industry, you must have intimate knowledge of the latest practices and tools. Training with experts sets you up for it. You get to learn the best and ethical practices for methods such as SEO and PPC. Good institutes have access to costly software tools that make a big difference to any digital marketing campaign. You get to master these tools. It gives you more credibility with clients as well as employers.
3) Work on Live Projects
An unbeatable benefit of learning from experts is the hands-on exposure. You don't just learn the theory and work on made-up scenarios. Most faculty come from years of working in the industry. So every exercise during training is based on real scenarios one can expect on a project. You may also get a chance to work on live client projects during training as many institutes to have tie-ups with companies that need digital marketing services.
4) Relevant to the Job Industry
When you learn from skilled experts, you prepare for a job in the industry. You are better equipped than most others who have learned on their own or from mediocre institutes. Your portfolio is richer, and your knowledge of tools and practices becomes relevant. Learning from experts gives you practical and hands-on knowledge of the field. You know to handle all types of real-world situations when dealing with an SEO or PPC campaign. This helps you find a job sooner.
10 Best Digital Marketing Courses in Chennai
Digital Monk – #1 Best Digital Marketing Courses in the in Chennai

Digital Monk is the only digital marketing training institute in Chennai offering 100% Job Assistance for its students after successful completion of the Course. Digital Monk provides both classroom and online training.
The course is organized into 8 core modules and 12 specialized modules with more than 150+ Hrs of Practical training with 6 Live Capstone Projects. The course is designed for serious people who want to be in the top 1% of digital marketing. The course will equip you to crack all the industry certifications from Google, Hubspot, Microsoft, etc, a total of 15+ Globally recognized Certifications will be cleared by the students. The course is designed to make you a highly paid digital marketing professional.
Digital marketing course in Chennai with curriculum & modules:
Introduction to Digital Marketing
Website Design
Content Marketing
Search Engine Optimization
Search Engine Marketing
Social Media Marketing
Email Marketing
Web analytics
Digital Marketing Strategy
Specialization Topics: Graphic Design, Youtube marketing, Mobile Marketing, CRO, Influencer Marketing, Growth Hacking, Marketing Automation, Affiliate Marketing, Sales Funnels, [50+ Topics], etc
Course Duration & Fees:
There Course duration is 2.5 Months for Weekdays ( Mon to Friday 2.5 to 3 Hours class) and 4.5 Months for Weekends ( Saturday and Sunday ( 4 to 5 Hours Class). We don't intend to drag the course for 6 months or 9 months, as the students will lose momentum in learning. Mode of training is available in both Classroom and online.
The Course Fee is 60,000 + GST.
Course Faculty:
The Faculties at digital Monk have more than 7+ Years of experience in digital marketing with Facebook and google certified, few of them having their own digital marketing agencies working on 100s of clients projects to working for Top MNC's running campaigns in Crores of Rupees. The trainers cover all the popular digital marketing tools.
Course Highlights:
Industry most Advanced Curriculum
350+ hrs of Practical Training
100% Placement Guarantee
50+ Modules
5+ Industry Experts
Best in Class Learning Management System (where you can access our recorded classes)
Premium Tools worth 140,000/- ( All original Tools with license keys)
15+ Globally recognized Certifications
10 Days No Question Refund Policy
Best in class Infrastructure
Industry Experts who take your classes
Freelancing Opportunities ( Work from home opportunities)
Learn to make money through Affiliate Marketing
Build your own business and eCommerce website.
Course Projects:
Designing a Business Website
Designing a Ecommerce Website
Designing Landing Pages
30 Day Social Media Strategy
Running Paid Google and FB Ads
Doing SEO for a Complete Website
Running Email Campaigns
Lead Generation Campaigns
Course Certifications:
6 Google Ads Certifications
1 Google Analytics Certifications
5 Hubspot Certification
1 Microsoft Bing certification
1 Course Completion Certificate.
Student Reviews:
Contact us:
Email: [email protected]
Phone: +91 8310657401
Institute Address: 3rd Floor, No.944, 16th Main Rd, Kuvempu Nagar, BTM 2nd Stage, Bengaluru, Karnataka 560076
Course Brochure: Download here
Digital Scholar – #2 Best Digital Marketing Courses in the in Chennai
Digital Scholar is one of the best digital marketing institutes in Chennai that follows an agency-styled approach while training students. They divide their students into groups and assign them to realtime-case study assignments to meet and greet the creativity of bringing out better digital marketing, i.e., they grab their students' hands and drive them to pursue their success route. Sorav Jain, a speaker, author, influencer, and digital marketing coach on Instagram, is the founder of Digital Scholar who offshoot his digital marketing firm, echoVME.
Course Syllabus
Orientation & Fundamentals of Marketing
Personal Branding
Content Writing
WordPress Management
Search Engine Optimization
Facebook & Instagram Ads
Search Engine Marketing
Email Marketing
Automation
Sales Funnels
LinkedIn Marketing
Social Media Management
Instagram Influencer Mastery
Agency Management
International freelancing
Other Customized Modules Unique to Digital Scholar
E-Commerce Marketing
Affiliate Marketing
Copywriting
Why Digital Scholar?
100% Placement assistance
Trained 40,000+ scholars
Experienced faculty
Experienced trainers with a wealth of knowledge
Learn with an agency-based institute.
Work on real-time projects.
Course Highlights
Learn digital marketing with the Assistance of Sorav Jain
24+ Certifications
Guaranteed Paid Internship
100% Placement Assistance
Live Case Studies
Access to Freelance Marketplace
15+ Advanced Modules
Free Hosting for a Year
Ad Budget Allocation
Qualified Faculty Of Practitioners
1-Year Access to Course Material
Updated Course
Feedback Session
Community Support
So, what exactly are you waiting for? Hurry up and sign up for Chennai's top agency-styled training for an online digital marketing course. Master your skills in digital marketing to grow your business or career in the field of digital marketing.
Digital Academy 360 – #3 Best Digital Marketing Courses in the in Chennai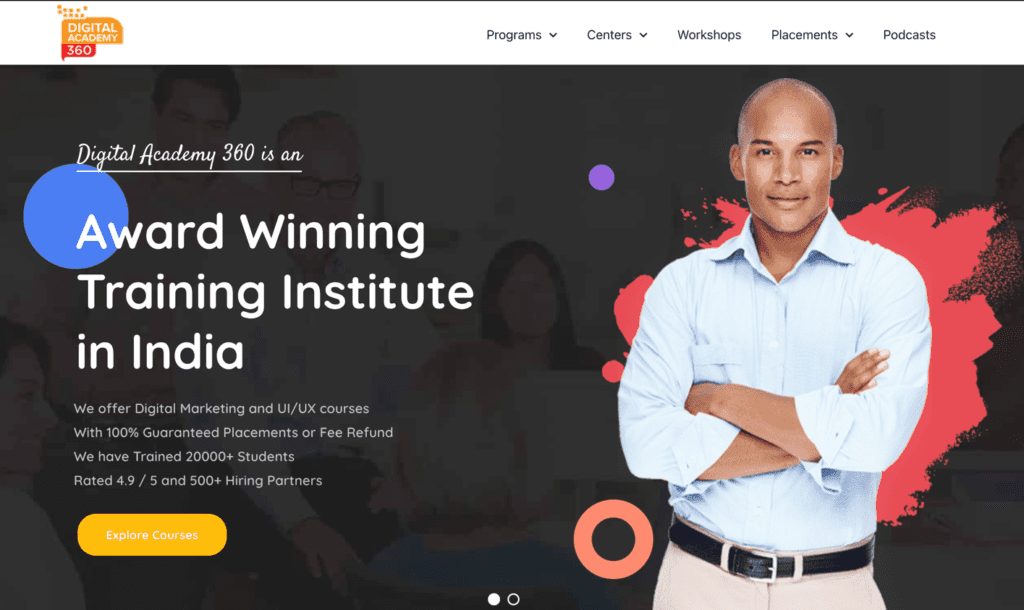 Digital Academy 360 offers a range of courses in digital marketing in Chennai. You can opt for the online or offline mode based on your comfort.
The benefits of joining are:
Two centers in Chennai for offline classes
Over 20,000 people trained to date
Placement guarantee for fresher's
Over 20+ top industry certifications offered
Free demo class for aspirants
Experienced faculty
Greens Technologys – #4 Best Digital Marketing Courses in the in Chennai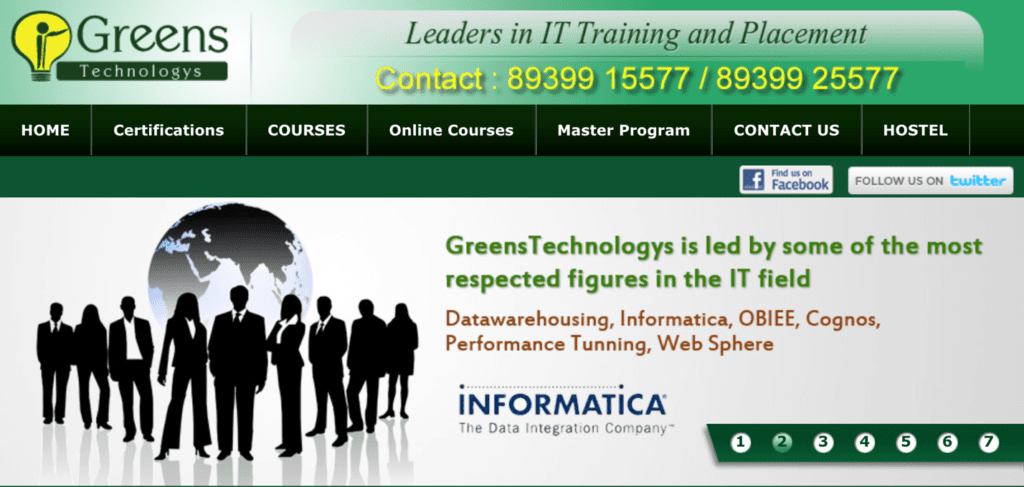 Greens Technology provides digital marketing training in Chennai. Spread across 44 modules, their course covers all aspects of digital marketing to make you job-ready. You can pick the modules that suit your needs.
Benefits of joining are:
Two free demo classes
Skilled trainer with rich experience
Several centers in all parts of Chennai
Job assistance for positions in India and abroad
EduPristine – #5 Best Digital Marketing Courses in the in Chennai

EduPristine offers an extensive digital marketing training program in Chennai. Spread over 150 hours, this course is suited for anyone who wants to master the domain. Their modules cover over 40 popular tools. They are partners of Google and Microsoft.
Why join them?
Placement assistance
Extensive digital library access
Centers in Chennai and all over the world
Classroom, Online, and Corporate training offered
Web D School – #6 Best Digital Marketing Courses in the in Chennai

Web D School in Chennai offers both Digital marketing and design courses. Their course covers all aspects of the field and has over 18 unique modules. The classes are hands-on and focus on practice instead of plain theory.
A few key takeaways are:
Work on Live projects during training
Full placement support
Exclusive reference material
Seminars and workshops for all students to boost skills
Besant Technologies – #7 Best Digital Marketing Courses in the in Chennai

Besant Technologies offers digital marketing courses in Chennai. The course is spread across 30 modules and focuses on hands-on training. Training is flexible and can be on weekdays or weekends.
The salient feature of the course is:
Group discounts for corporates and colleges
Placement assistance
Experienced faculty who work at top MNC's
Course completion certificate
Choose online or offline
9 locations across Chennai
Inventateq – #8 Best Digital Marketing Courses in the in Chennai

Inventateq offers several courses in digital marketing in Chennai. The classes cover both basic and advanced modules. You can go for a free demo class before you decide to sign up.
Salient features:
Google certified trainers with over 14-years of experience
Live projects with expert guidance
Four centers in Chennai with flexible time slots
Placement assistance with mock interviews and tests
Free trial class available
Digital Vidya – #9 Best Digital Marketing Courses in the in Chennai

Digital Vidya is a reputed Digital marketing institute in Chennai. They conduct a 100-hours course. You get to learn over 70 popular tools used in the industry. Each course blends theory and practicals with expert guidance from the faculty.
Other features include:
Two internship tie-ups in Chennai
Over 13 certifications by top industry names
Flexible online and offline coaching
Over 250 placement partners
ACTE – #10 Best Digital Marketing Courses in the in Chennai

ACTE conducts digital marketing coures in Chennai that cover basic to advanced skills. You learn the key concepts, design principles, and tools for the job. They conduct batches both online and offline. Each student gets personal attention and gets hands-on tool practice.
The main features are:
40+ hours of hands-on training
Work on 3 Live projects during training
Affordable courses with placement assistance
Lifetime access to course content
Courseinn Academy – #11 Best Digital Marketing Courses in the in Chennai

Courseinn Academy offers a wide range of digital marketing training courses in Chennai. You can choose from digital marketing and coding classes. They have tailored each course to meet industry demands. You learn all aspects of digital marketing through certified experts.
Other benefits are:
Hands-on training with regular assessments
Live case studies. Work on parts of real projects
Top clients and hiring partners for jobs and internships
Zuan Education – #12 Best Digital Marketing Courses in the in Chennai

Zuan Education has been in the training space for over a decade. Their digital marketing courses in Chennai are extensive and relevant to current industry needs. You can choose offline or online learning modes.
Course features:
Over 80 hours of training content
Job focused with live project work
It starts from 16,000 INR
Free demo class
Over 500 successful batches
Learn top industry tools
SKARTEC – #13 Best Digital Marketing Courses in the in Chennai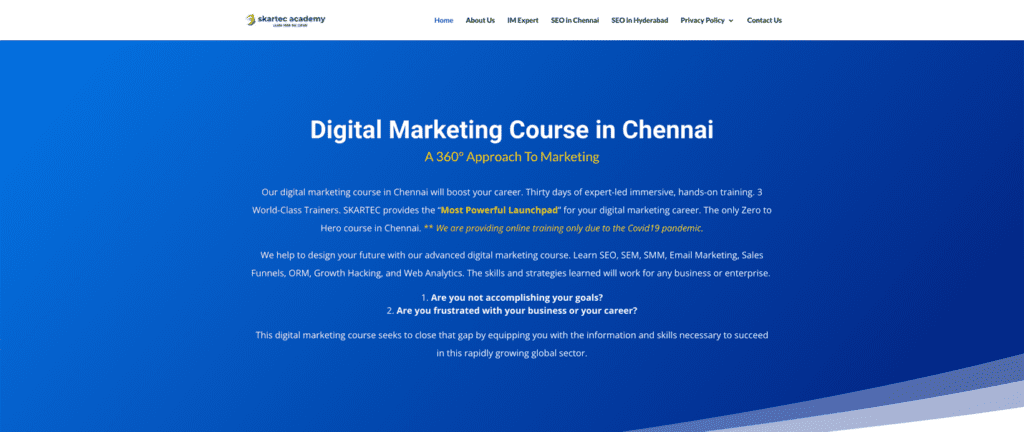 SKARTEC offers a comprehensive digital marketing course in Chennai spread over 30-days. Training covers theory and hands-on practice. World-class trainers conduct it. It covers everything from SEO to design. You get insights into job options as well.
The main features are:
Globally recognized certificate
Courses begin from 10,000 INR
In-depth coaching with up-to-date content
Expert career guidance and mock tests for interview readiness
Peridot Systems – #14 Best Digital Marketing Courses in the in Chennai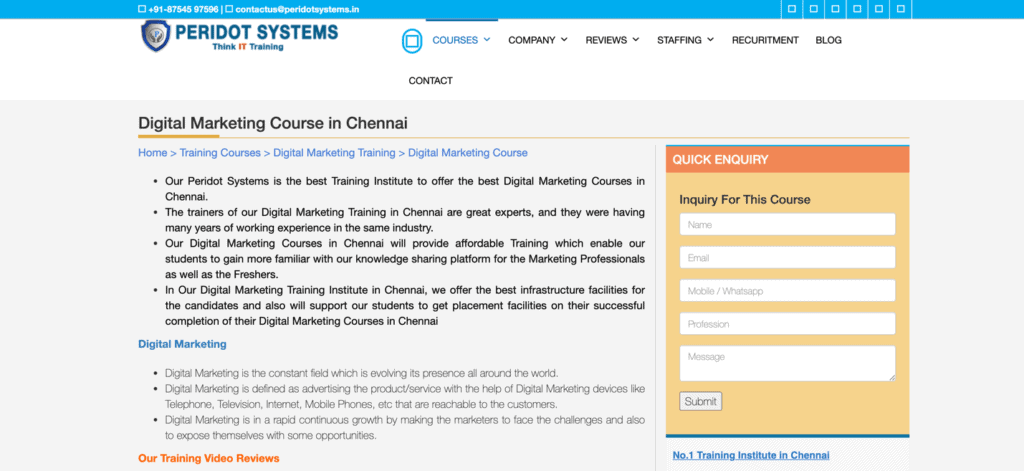 Peridot systems is a digital marketing training institute in Adyar, Chennai. Their course aim at beginners and working people. It is a career-focused course with plenty of hands-on exercises and case study analysis.
You will also benefit from:
Expert faculty with one-on-one guidance
Learn the best tools in the industry
Choose offline or online
Affordable and flexible fee structure
Apponix – #15 Best Digital Marketing Courses in the in Chennai

Apponix has a team of qualified trainers for their Digital marketing courses. You enjoy hours of expertly curated lessons across a wide range of topics. They have excellent student ratings for teaching as well as placements.
Here are some more benefits:
Dedicated placement team
Learn online or offline
Expert trainers with over a decade of industry and training experience
Hands-on sessions with a flexible cost structure
FITA Academy – #16 Best Digital Marketing Courses in the in Chennai

FITA Academy's digital marketing course in Chennai is job-focused training. It aligns with industry requirements and teaches all the main pillars of the subject. You get to learn from the best people in the field.
Key benefits:
Ties with more than 1000 companies in the field for placements and live projects
Flexible batch timings
Affordable pricing with completion certificate
Hands-on practice with best tools
ESearch Advisors – #17 Best Digital Marketing Courses in the in Chennai

eSearch Advisors are a leading training institute. You can opt for their basic or advanced digital marketing courses in Chennai. They have great content and focus on building practical skills. They offer online as well as offline modes of learning.
The main benefits are:
Flexible timings with 100% placement assistance
Certified and experienced faculty
Tailor-made courses based on your needs
Proven track record of placements and internships
Importance of Digital Marketing
1) Reach a Wider Audience
Promoting your brand digitally gets you a larger reach than traditional Ads. Local Ads curtail your spread to regional areas. Digital Ads have no such limitations. You can reach people all over the world as they are purely online. You are no longer constrained within single geography but can multiply your sales by operating outside your hometown. Find people interested in your products anywhere and boost your brand's reach. It's an excellent opportunity to grow your company.
2) Reach People At Their Favorite Web Locations
Digital marketing can work with surgical precision. It lets you choose where you wish to display your Ads or marketing content on the internet. Once you know your target audience and the places they frequent on the web, position your Ads in those locations. Your Ads are seen and attract interest as the audience is receptive to similar products and services. Digital marketing lets you reach people where they like to spend time and money.
3) Compete With Bigger Players
It's tough to take on competitors bigger than you locally without heavy spends on local ads and marketing. Going digital removes these constraints. You can now compete with giants in your industry with minimal investment. You have a better chance to sell your products as long as your campaigns are well executed. It lets you reach the same leads as bigger company's. SEO and PPC reduce the gap between you and your prospective customers in a big way.
4) Spend Less than Traditional Ads
Let's face it. Renting a billboard or printing brochures and flyers is an expensive affair. More often than not, you barely recoup your ROI. Digital marketing is a breath of fresh air for cash-strapped businesses. It cuts down marketing costs dramatically. You spend a quarter the amount compared to a traditional campaign. You also have the benefit of changing the Ad or your strategy quickly in case you need to steer your drive in a new direction.
5) Capitalize on Mobile Adoption
Mobile phones are everywhere. They are in use more than ever to search for and buy products online. Digital marketing enables businesses to reach their audience on any platform, be it the web or a phone. Work with an expert to craft a strategic PPC or SEO campaign. Ensure that all your Ads, web, and social content is mobile-ready. Doing so will expand your brand reach much further as it is no longer restricted to people on a computer alone.
6) Easy to Scale and Personalize
Digital Marketing is powerful owing to the ease with which you can scale a campaign. If you see a growing customer base, it takes very little time and minimal spending to expand your efforts. Scaling in traditional marketing can get expensive as it involves physical assets. Digital media removes this from the equation. It allows you to personalize every user's experience on the web. You can display personalized ads based on user research and patterns.
Things to check before choosing a Digital Marketing Class
1) Evaluate the Curriculum
Many institutes do not have a well-researched and relevant curriculum. Be sure to ask them for a detailed list of topics they plan to cover during the training. It should be a blend of theory and practical sessions with enough time allotted for each module. Check if the topics include advanced topics and hands-on sessions for tools. Ask the institute if they provide any Live projects to prepare you for interviews. Avoid places that don't have a detailed curriculum.
2) Check Pricing and Flexibility
An excellent digital marketing course could vary in price depending on many factors. Common ones include institute reputation, faculty, certifications, and more. Look for a place that provides a balance between quality and price. They must be flexible in pricing. Their training packages must cater to beginners and advanced-level students. Ask if they have classes during evenings or weekends. This is useful if you work or go to college during the day. Consider these factors before making a choice.
3) Research Faculty and Reviews
An institute earns its reputation through its faculty. Do your research online. Always check online reviews of the institute's faculty. The faculty must have real industry experience with digital marketing. It's preferable if they hold top industry certifications too. Choose a place where the faculty has taught all levels of learners. Talk to the faculty to get a feel if they are a good fit. They should be amiable, know their subject and have a flexible approach.
4) Check the Batch Size
The number of people in a batch is important. Too many people crammed into a classroom is a deterrent to learning. It leads to a lack of individual attention. Ask the institute for their typical batch size. A healthy batch size to consider is 8-12 people. Ask them how they ensure that the faculty nurture each student's learning. Check if you are allowed to change batches if you are not comfortable with one assigned to you.
5) Ask About Completion Certificate
Attending a great course with nothing to show for it does not get you far in the industry. Institutes may offer a course completion certificate. They could also provide industry certifications at an extra charge. Check online reviews to determine if the certificate provided carries any weight in the job industry. Look for places that companies in the same domain hold in high regard. Pick a valued certification even if it costs a little more.
6) Access to Hands-on and Live Tools
Your time and money count to nothing if your training institute does not prepare you for the practical aspects of the role. Ask the institute about practical exercises during training. How much time is spent on them, and what are the tools and scenarios covered? Hands-on with tools and concepts will get you a job sooner and prepare you for challenging situations on the job. A good course should have a healthy mix of theory and hands-on.
FAQs on Digital Marketing Courses
1) Who Is Eligible for These Courses?
Anyone with career aspirations in Digital Marketing is eligible to take up these courses. There are no prior academic qualification barriers. The course is best suited for students, entrepreneurs, and those with online businesses. People already in traditional marketing roles can also benefit from it. Talk to the institute to get an idea of the best course for you. This will depend on your desired outcome from the course. They can suggest the best course accordingly.
2) What Job Roles Can I Apply for After a Course?
Digital Marketing courses open up plenty of roles. It lets you diversify your skills and apply for many positions. Typical roles would be as a lead for SEO and PPC campaigns for businesses. You have the flexibility to work full-time or earn as a freelancer as this role can be performed remotely as well. Other specific roles are also possible. For example, you can specialize in social media or email marketing, even reputation management if you have the right skills.
3) What is The Ideal Duration for a Course?
Courses vary from starter levels to advanced. The duration of courses depends upon the content covered. Courses that prepare you for placements are usually longer as these may involve live projects. A typical starter course may take 5-7 days. A more specialized course could last anywhere from 30-days to 6-months. You have the flexibility to opt for classroom or online classes. Many institutes also conduct classes on weekends and evenings. This is useful if you are a working professional.
4) Are External Certifications Mandatory for Job Placements?
External certifications from companies like Google or Facebook give you an edge over others when applying for jobs. Although, it's not a must. When you go for a certification, it prepares you better for practical situations you may find on the job. Employers prefer candidates with valid certificates. Ask the institute about it. Most of them have tie-ups to provide these certifications to students at an extra cost. They are aware of the requirements and can prepare you for them.
5) What Tools Should I Look for in a Course?
It is crucial to do your research before you sign up for a course. Digital marketing is a vast field. There are dozens of powerful tools used in the industry that do a wide range of tasks. Ask the training center to share a list of all the tools covered in training. Search on Google for the most popular tools and check if your center covers them in the course.
Joseph Schneider is an entrepreneur and Marketing Head at Haitna. He is passionate about content marketing, social media marketing, and search engine optimization and he always keeps up with industry trends.