Building an email list from scratch is tedious, especially when you are busy building your business and providing enough support to your customers. There are myriad ways that help you to build an email list without letting any of your work down.
Though your social media channels have a high weightage of traffic, email marketing software is the most valuable digital channel that helps in building your business. Even research confirms that. 
According to recent research, email marketing has an ROI of $40 for every single dollar spent. It beats the combined ROI of the organic search and the paid search.
What's now? Let us explore more about the importance of email marketing for a business and the fantastic ways to build your business's email list.
Also read:
Top 10 Digital Marketing courses in bangalore offering training with 100% placements.
Our Course on Advanced Digital Marketing
Why Is Email List Building Important For Your Business?
An email list is quite a smart strategy to start your business from scratch. You can get direct access to interact with the people who want to hear from your company. A perfect email list also lets you to,
Improve your audience base
Increases Conversion
Delivers Updates or events
Collects Surveys
Notifies referral programs
Deliver targeted and triggering messages
Building your own email list has been the best thing you can do for your business. But, you will not fill your subscribers' inbox with the " Thank Us Later, Enjoy it Now" sort of emails.
Instead, you will end up with a high-quality email list after trying the ways unveiled here. Period. There are myriad ways to build your email list. Forget it! Let us try something that helps you build your email list for free.
9 Best Ways To Build An Email List For Your Business
Now, you are all set to build your email list from scratch. But, where to start from? If you are wondering about the same, we have covered you up with our ten different yet resultative ways to build your email list for free.
As the enlisted ways result from extensive research, you do not need to do any guesswork. Let us dive in.
Create Compelling Content Copies
Do any of your visitors leave their email addresses without any reason? Say you are the person who gets bombarded with tons of emails in your inbox from various businesses. In that case, will you leave your email ID without any valid reason on a random website?
No, right? You never wish to face the same scenario. On the contrary, people ought to leave their mail addresses or contact information when they are attracted by something special on your website. Give them a reason to like your website. And, one of the greatest ways to do so is through content that resonates with your audience.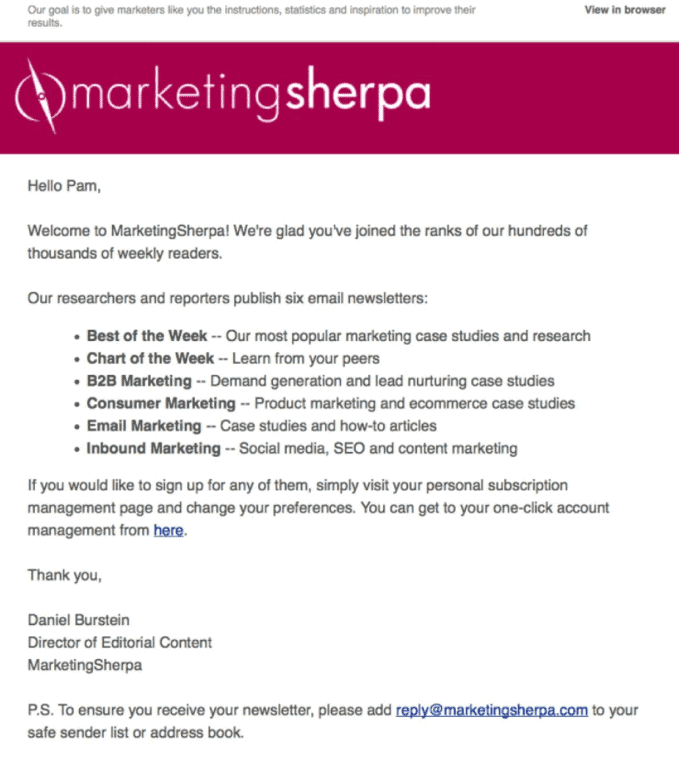 Source: Google
Here is an example of a compelling email copy. Similarly, create a compelling email copy for your audience. Have a clear picture of the target audience in your mind before you draft. Stick to the content that actually people care about, makes people's life easier, gives them a solution, and even entertains them.
Many top publications have been receiving millions of newsletter sign-ups due to the way they handle their marketing or website copies. Think about it.
Introduce Referral Programs or Contest
Increasing your email list is all about providing incentives and discounts to your audience. It is one of the easiest and straightforward ways to collect their contact information in exchange for the discounts you provide. People love winning contests and getting rewarded.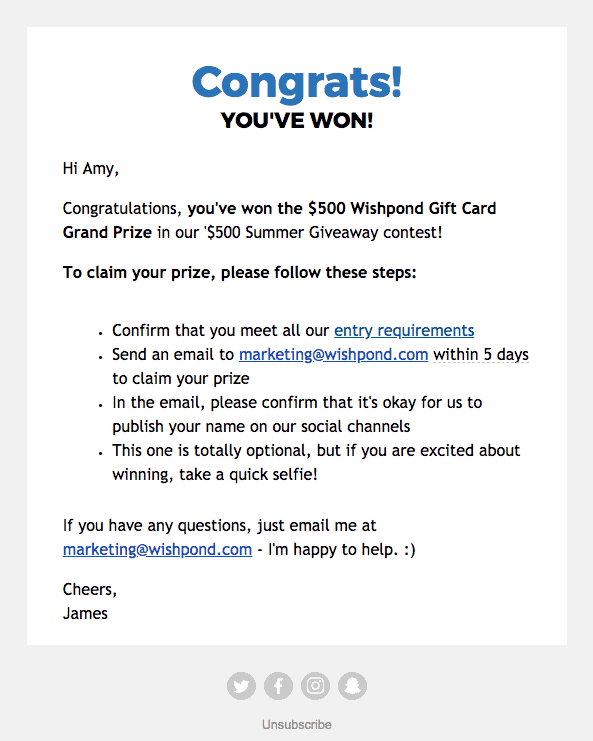 There are tons of formats you can use to run a referral program. It includes,
A photo/video contest where you can ask your audience to share/tag/post photos on their social media wall
A Giveaway Contest with polls that helps you to understand your target audience better
A referral program that insists your audience refer their friends in order to get a huge discount on their favorite products
Luckily, introducing a referral program becomes a strategy that seems to build your email list drastically and is ethical bribery. When compared to the other ways, you can see a natural drift in your email list. Instead of creating an opt-in-offer, you can offer a discount or coupon code to the customers in exchange for their contact information.
Once the customer enters into the loyalty/rewards program, they wish to know the latest updates of the rewards program. So sending them a quick email reminder regarding the progress of their reward account will drive more revenue and is a fairly simple way to boost your sales.
Create Subscribers-Only Social Media Group
Offering something exclusive to your visitors is a great way to increase your email list. Let us start with the Facebook platform. Create a unique Facebook Group exclusively for your subscribers. It must include the verified subscribers only.
You can trigger the other visitors by offering discounts to the verified subscribers. It encourages new signups from people who are genuinely interested in what you offer to the verified subscribers.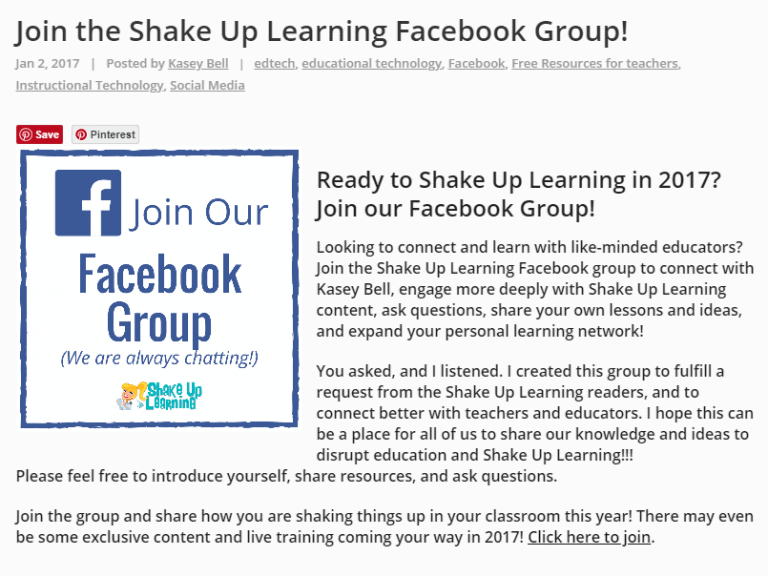 Not only discounts, as in the image, but you can also provide pro tips to the selective subscribers that may trigger the intention of others to join in the group and get benefited. Through the groups, you can easily conduct surveys that also help you to improve your business.
On the other hand, when you are about to introduce a loyalty program or referral program, try to introduce it to your brand's community first. You can also embed the group's widget in your blog post and increase your email list.
Provide Lead Magnets
Lead Magnets, undoubtedly, offers you great potential to build your email list in various ways. Similar to the referral programs or giveaways, you can use lead magnets to collect email addresses from your visitors.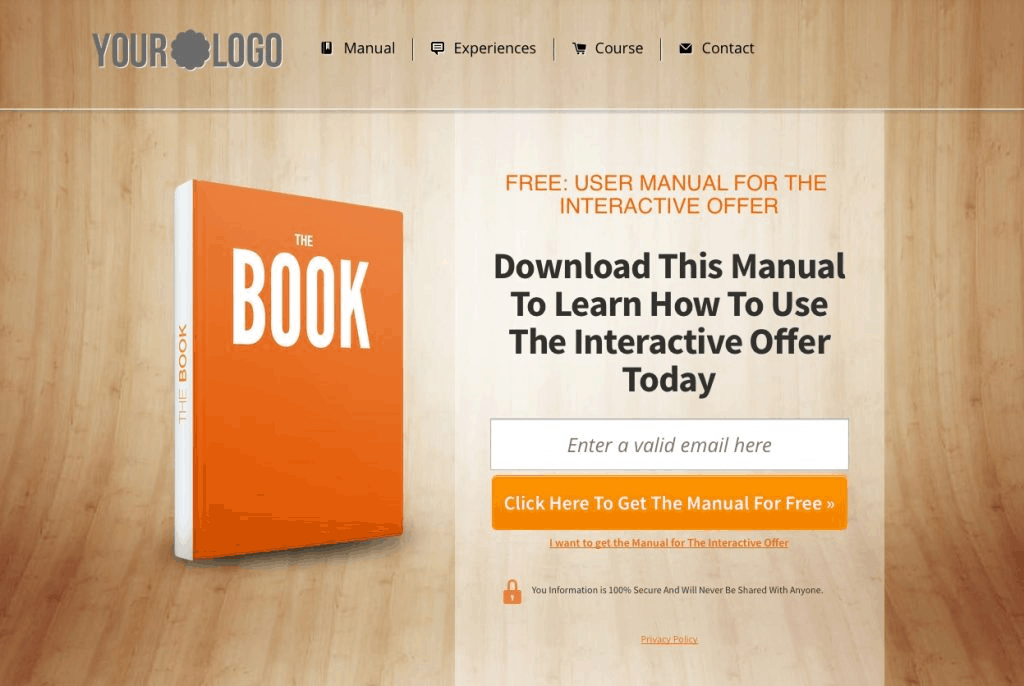 Instead of providing discounts, you can raise a good awareness and connect your prospective customers with your product's manual or marketing copy. It also helps in spreading your brand to the people who haven't heard about your brand.
Even giveaways fall under the lead magnet umbrella as it is one of the strategies used to build the email list of the business. Other than giveaways, you can also look at a few other examples of lead magnets.
Cheat Sheets
Ebooks
Product Samples
Checklists
Webinars
Podcasts
Coupon codes
Premium content
Pro Tips
Added, when you have decided to create lead magnets, there are few other things to keep in mind.
Most people wish to get a quick solution once they end up signing up for the lead magnets. Ensure that the customer gets an immediate solution once they enter their email address. In turn, you can send them the promised content or discount in exchange for their email address.
When you plan to build your email list through lead magnets, it must be highly valuable to encourage the customer to proceed with the next step. Make sure the lead magnet is in the right place with appropriate CTA phrases.
Use your Popups Purposefully
Technically, popups are a great way to attract customers and get inputs from them. Knowing it well, many businesses have been investing in the popups and are reaping benefits out of it. Using popups in your business website helps in building your email list.
An exit-intent popup is a final attempt to attract your audience when they are about to bounce back from your website. Understanding your audience helps in convincing them with the help of popups.
Look at the example. Say, if a customer leaves the site due to a lack of free shipping or due to high cost, you can showcase an eye-grabbing popup with a discount code.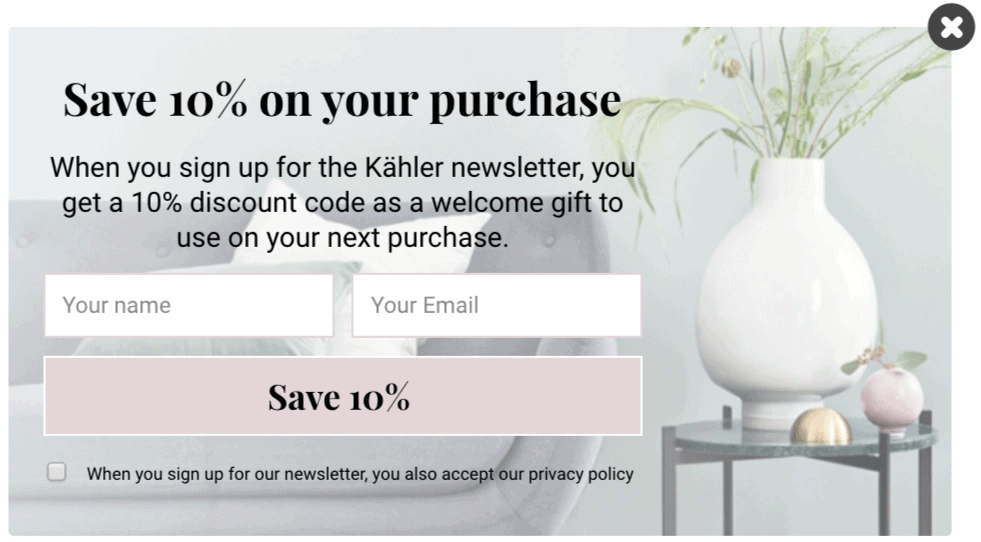 If the customer is really interested in the particular product, he/she will enter their email addresses in order to avail of the coupon code. Instead of placing sticky bars, the popups help in grabbing the attention of the customers instantly.
Instead of using standard popups, you can also introduce gamification popups on your website. Gamification popups displayed at the right time on the website bring increased conversion ratio along with increased newsletter signups.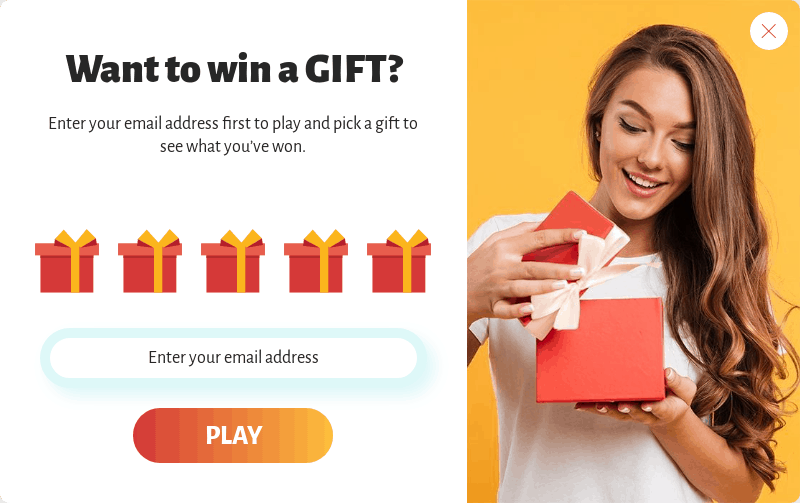 According to Blog Marketing Academy, popups are highly convertible when compared to the other lead magnets on the website. So, either it may be standard popups or gamification popups, do not miss out on the chance to entertain the audience or trigger them to sign up for your newsletter.
Create attractive Squeeze Pages
Squeeze Page is no new term in the email list building realm. The name itself has encoded its meaning out. A squeeze page is nothing but a dedicated landing page that helps in capturing leads and their email addresses.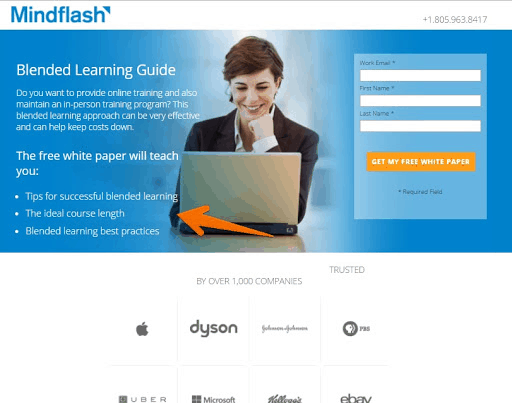 When the visitor desires to restrict access to their information, the dedicated landing page helps in squeezing out the data through a signup form. Remember, the landing page and the squeeze page differ a lot.
Unlike the landing page, the squeeze page comes up with high exit rates and that is probably okay as long as you get email addresses through the signup form. The sole purpose of the squeeze page is to capture the email addresses as long as their conversion is high.
If you wish to reduce the exit rates and redirect your visitors to your target page, make use of the CTAs effectively to do so.
Include Email Opt-in In Your Checkout Page
While indulging in a purchase, they wish to track their order and provide their emails and contact details without a second thought. They are okay to share their details unless your site is not secured.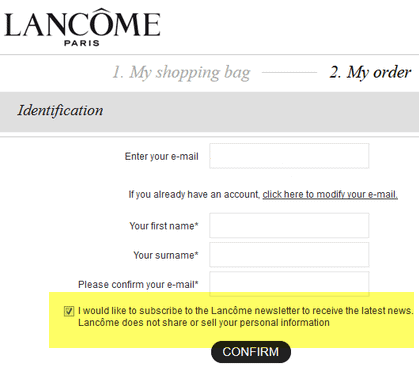 Remember to add the email opt-in at the right place. On the other hand, you can also let your customers know about your newsletters and ask them to join. It helps them to get updates on the order progress as well as your company updates.
Adding email optin in the checkout pages is a noninvasive way to encourage your customers in signing up for your newsletters.
Use Social Proof Or Testimonials
Social proof is a powerful aid to build the email list of your business. Increasing your email list will become easy when you start showcasing how other customers feel about your service/products. To increase your subscribers, try to show other visitors about the list of existing subscribers in your list.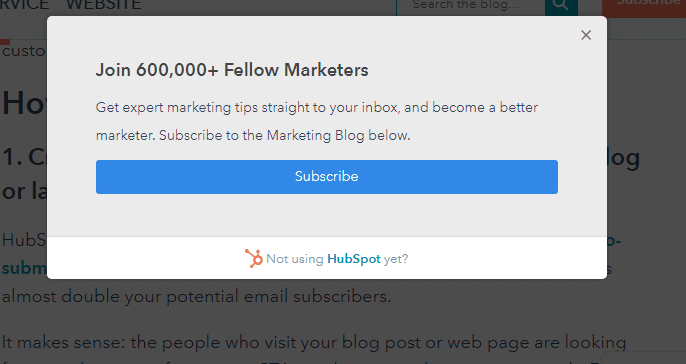 Try to make them envy your potential customers. This helps in increasing your email list. Especially, when your business page on Facebook has a vast audience, you can showcase the benefits received to your subscribers.
When you make use of the social proof wisely, you will foresee the results sooner. It helps in improving your business, increasing your email list, and thereby gives you overwhelming community support from different channels.
Create Personalized CTAs In Your Blog
Trying personalized CTA doubles your email list. Personalized CTA works well in building your email list and your business as well. If you have resources to create quality content in the first place, do not forget to place the personalized CTA in it. It does not consume much time.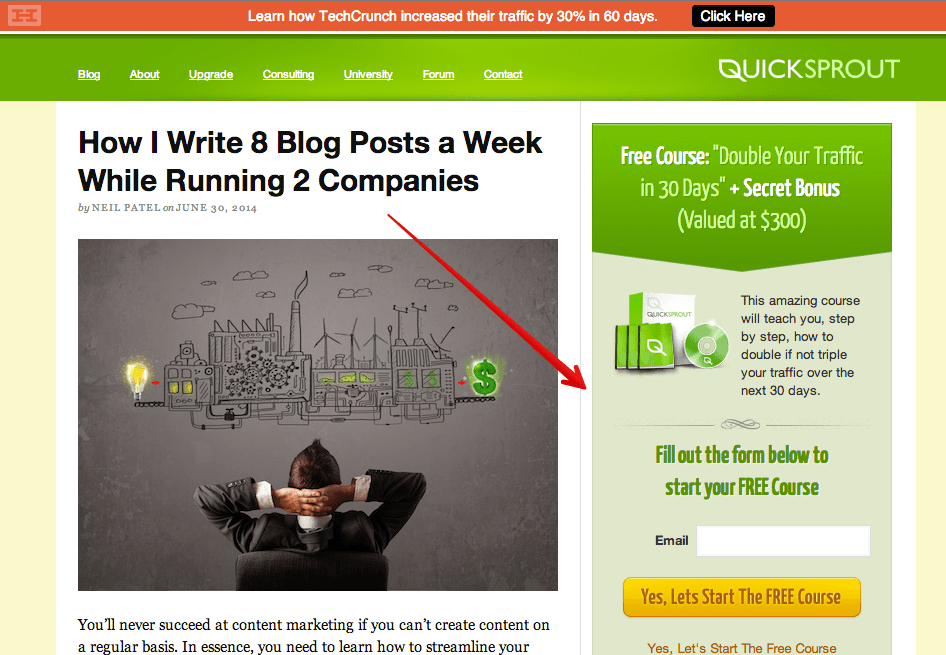 People who ought to visit your blog or website have been looking for something specific. It is necessary to make your CTA meet their needs. If you offer content directly to your visitors, your newsletters may not be a gimmick to them.
Instead, it becomes a valuable resource that enhances your communication with them. Instead of a toolkit, you can offer an ebook, fun quiz, or an article that comes under the list-building strategies.
Other than the blogs, you can also place attractive CTA phrases in your social media bio, about us page, and every possible page on your website. Placing sign-up CTA on the about us page is one of the potent steps that helps in building your email list.
Your about us page will prime your visitors to want more from your business. But, when it is not convincing or fails to provide complete information, the CTA would surely encourage them to subscribe to your business to know more about the updates.
Aside from these strategies that I've shared in building your email list, you can fast-track the process by outsourcing your email marketing to a virtual assistant. It doubles your list growth and frees up your time
Bottom Line
In a nutshell, figuring out when your visitor is ready to become your subscriber depends on your website's performance. Building an effective email list takes time. Ensure you conduct AB testing to determine how well your website responds to the discussed ways to build your email list. Good Luck!
Author Bio
Monisha Thangavel is an ardent writer and a blogger carrying years of experience in different realms including eCommerce, Tech, and SEO. Her brevity-rich writings flash a light upon the uncovered yet important points about WordPress and eCommerce plugins. Apart from content, Monisha spends her free time learning calligraphic writing.