Search Engine Optimization (SEO) encompasses every bit of element of a website, optimized to rank among the top sites. With mobilization and awareness, optimizing media files, metadata, keywords, and uploading XML sitemaps has become a common practice for professionals and beginners alike.
When certain sections are optimized by a majority of websites and reach a saturation state, you need to advance to sections that are not yet competitive and give you an extra edge over other websites. A major defining factor surfacing is optimizing voice search. Not many websites and businesses consider voice search while building their SEO strategy. However, this can be an important piece you are missing out on.
Today, there are around 4.32 billion active mobile internet users worldwide. 54.18% of total internet traffic comes from mobile devices. This has led to a significant increase in the use of voice search features. Since it is easier to use voice search or virtual assistant on a mobile device, we have seen a changing trend in the way people search for queries. The stats are surprisingly uplifting:
Optimizing voice search for SEO can be the determining factor in the success of your online business. In this article, we will look at how SEO for voice search is different from other types of searches and look at some useful tips on making the most out of your voice search SEO.
Also read:
Top 10 Digital Marketing courses in bangalore offering training with 100% placements.
Our Course on Advanced Digital Marketing
How is voice search important for a business?
Voice search essentially is a system of communication between a human user and a computer interface. This communication between the user and the software uses automatic speech recognition (ASR) and natural language processing (NLP) to identify words and phrases interpreted by the software and processed to display search results much like written searches on search engines.
You can use voice search on any digital device like your smartphone, smart speaker, speech-enabled devices, digital assistants, desktops & laptops, etc. The search queries using voice search are slightly different in terms of articulation and style when compared to written queries.
It has been seen that voice search queries are more casual and conversational in tone. For example, a written query, 'Best web host for WordPress' when searched using voice search may sound like, 'Hello Google, which is the best web host service for WordPress?'.
Benefits of voice search SEO
Voice search is beneficial for both users and businesses. Investing time and effort in optimizing voice search can yield extremely profitable results for you. Let's look at some of the benefits of optimizing for voice search:
Optimizing your website for voice search allows it to respond to simple questions quickly. The users do not have to open web pages and wait for them to load to get a lengthy answer for a simple question.
It allows for users to search hands-free, which is a great utility while driving or doing some other work where your hands are busy. These benefits improve user experience, making a site more favorable for search engine recommendations.
Optimizing for voice search also means that you are putting your business in front of more customers. It allows you a wider visibility and search preference.
75% of voice search results rank in the top three positions in SERPs (Search Engine Result Page). This means boosted visibility and rankings.
Let us look at how you can optimize voice search for your business.
Use Conversational Keywords
Keywords are an integral part of SEO and so is the case with voice search. The way users interact with voice search is more like casual conversations they have with real humans. Typed queries on search engines mostly use short-tail keywords or just keywords like, 'affiliate marketing course in 2021'. However, using voice search, users often use larger phrases like they would with an actual human, 'Hey Siri, show me the best affiliate marketing courses in 2021.'
These types of keywords are called conversational keywords. They use natural sentences or phrases. An important step in using conversational keywords would be to identify such phrases and sentences that your users might ask. Then you should plan your web pages and content in such a way that they immediately answer these direct questions.
Make sure that your business listings and web pages are optimized to answer the most commonly asked questions. Your page can be optimized for search queries like, 'specialized digital marketing programs,' or 'what is the most affordable digital marketing program?' etc.
Rank for Local Voice Search Queries
An important aspect of optimizing voice search is to optimize it for local queries. It is observed that many of the voice searches were done for local queries like:
Finding an address
Navigation and directions
Finding Business contact details
Finding business hours
This gives you an idea about what your customers might be searching for in your specific niche. By identifying local queries, you can significantly boost your voice search results. You cater to the audience that can actually make a difference to your business.
However, how do you show up in local query search results in the first place? There are a few factors that play in like geographical proximity to the user, consistent positive reviews, social media engagement, industry-specific listings, links to your website and content, etc.
To add your business to local search, register your business with Google My Business. Add all specific details, photographs, reviews, keywords in your description, and as much information as possible. You should also update other directories like YelloPages and Bing. Keep the directories updated with the latest info.
Use Schemas To Provide Context
The whole idea of optimizing a website majorly resides in the attempt to allow search engines to better understand our website and consider it as a relevant result for search queries. To do this, there are various ways like uploading your XML sitemap so that search engines have a better understanding of your site structure.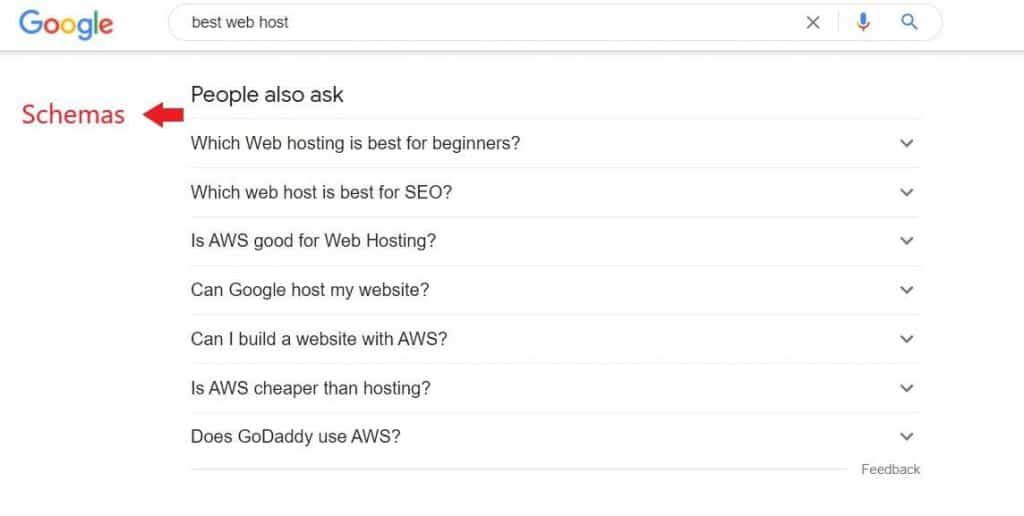 Using schemas is another effective way of letting web crawlers know what your web page is about and what questions does it answer. Schemas are HTML add-ons that behave like labels for web crawlers. These labels allow search engines to figure out how your website fits a certain search query.
Various tools can help you in creating schemas for your website. This allows you to rank higher for specific voice search queries and typical queries.
FAQ Page For Long Conversational Keywords
Creating a detailed FAQ page can be a smart way of using long conversational keywords. It can be used to answer direct and most commonly asked questions. This is great for voice search. The kind of queries that come in through voice search fit perfectly for a FAQ page. This FAQ page can be leveraged to boost ranking for voice search results.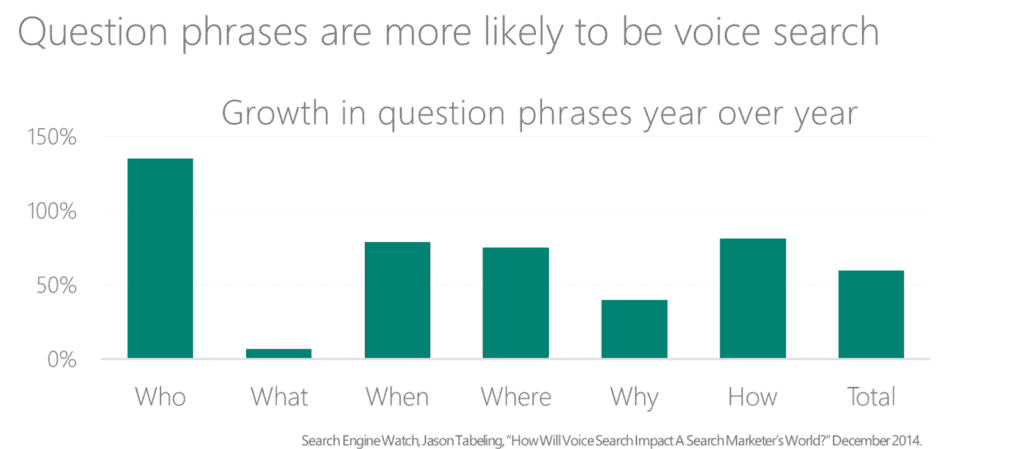 The 5Ws (Why, Where, When, Who, What) and 1H (How) can be incorporated into your FAQs. These are conversational questions. Try giving answers in a casual conversational way. This boosts the appeal for voice search. This page must perform optimally. Ensure that it loads fast, and is easy for users to interact with.
This can be a strong aspect of your website to draw in traffic. Give more time and effort to it.
Understand Device Types
It was predicted in 2017 that by the end of the year, the U.S. alone will have more than 30 million households using home voice assistants. This has come largely true. Millions of people today use digital assistance for mundane and everyday tasks. Think with Google reports that '44% of those who regularly use a voice-activated speaker say they order products they need like groceries, household items, etc., at least once a week.'
Many devices and smartphones today are equipped with voice assistants or easy methods for voice search. As a business, you must understand the use and mechanics of these devices. By understanding user behavior with voice assistant devices, you can make informed decisions on how you want to optimize your online business for voice search.
Author's bio:
Kiera Hayes is a passionate Blogger and Marketer. She enjoys reading and writing articles whenever she gets time from her work.
Understand Your Customers
It is imperative to understand your audience. People with different demographics might have different user behaviours. It becomes your responsibility to walk the distance. Depending upon who your audience is, what is their user behaviour, internet usage pattern and technological ability, you need to device strategies so that it becomes easier for your customers to access you through voice search.
It is possible that your audience is diffused over a wide geographical and cultural landscape. Once you identify what kind of differences they have like language, culture, and nation, you can take an appropriate measure. For example, you can make your web pages available in multiple languages depending upon your audience.
It is possible that you might have a rural, less educated audience, with minimal contact with technology. If they could reach you by voice search in their native language, it will be a way to make your website accessible to them and boost user experience. It can significantly impact your SEO.
Focus on User Intent
Perhaps one of the most significant advances that Google has made in their search engine is the use of semantic search, which focuses on the implied meaning of the search query. This was rolled out with the Hummingbird update, which was one of the largest changes to Google's core mechanism.
It is very difficult for a machine to infer the intent behind a search query. Google can identify user intent behind ambiguous searches to offer even better user experience. The first step to optimize for user intent is by finishing some very simple tasks like adding your opening and closing hours to your website, adding your address, and other simple and relevant details.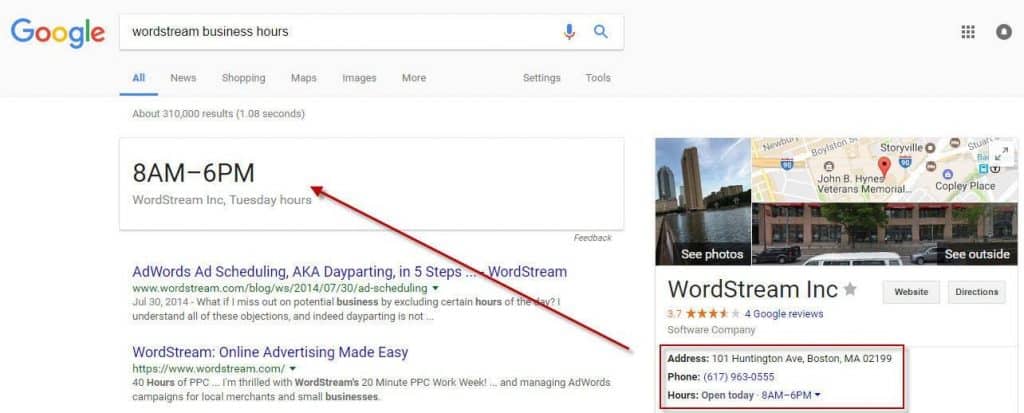 When people search for your brand in respect to these details, Google knows what info to show. For example a user might ask, 'Ok Google: What are the opening hours of a dragon bowl restaurant.' The restaurant's website must mention this detail on their website for Google to display it readily.
Ensure that these simple information are in simple HTML format so that the crawlers can read through easily.
Optimize Your Website For Mobile
Voice search is more popular among Millennials and Gen Z because of the heightened use of smartphones. BrightLocal found that 56% of voice searches were made on smartphone devices. This means that a lot of traffic will land on your website through mobile devices.
Thus, your website must be optimized for mobile. If a lot of traffic lands on your site through mobile and your website is broken on smartphones, you will lose a lot of customers permanently.
Your website should be mobile responsive. Voice search on smartphones is the highest among all devices. Give heed to the importance of optimizing your site for mobile. Because people find it easier to browse the internet on mobile, we see a trend where maximum online users are shifting towards smartphones as their choice of device to access the internet.
This trend is going to go up in the future and investing your time and energy in it right now will reap great results in the future.
Take Away!
One aspect of technology has always been to bring more comfort and conveniences in our lives. As devices get smaller and the internet expands, it is taking less and less effort from the user end to surf the web and partake in multiple activities. Voice search and that too through smartphones is by and large a widespread user behavior.
Because of the ease and speed voice search brings, people prefer to use it over typical methods of search. By applying the tips we shared above, you can optimize your website for voice search. It will bring in more traffic to your website and offer better utility to your customers.
We hope this guide helped you learn how you can optimize voice search for better SEO.