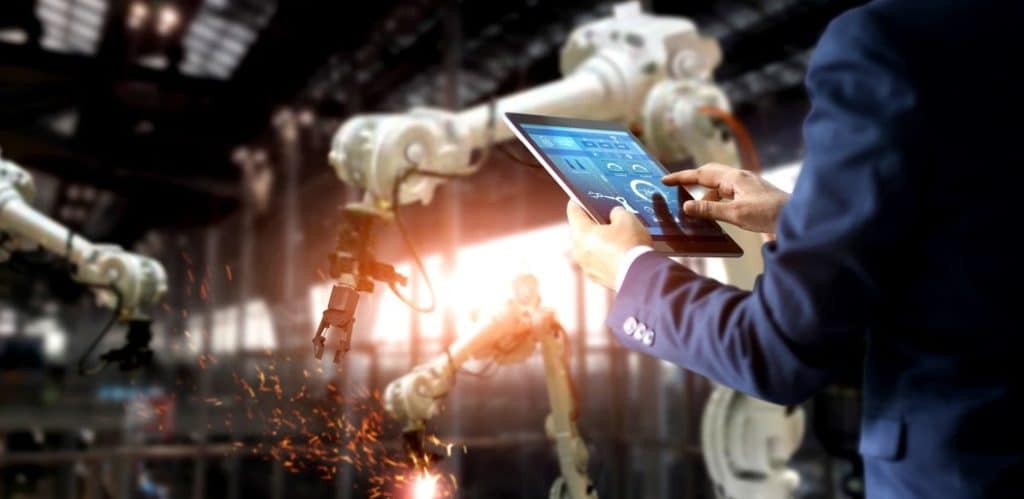 Digital Transformation is the method of integration of digital tools into all aspects of a company's business. In this blog, we talk about the 5Ds of Digital Transformation Strategy and look into a few examples of the successful implementation of their Digital Transformation Strategy.
Digitization has taken the world by storm. Want a pizza? Order online. Need to send money to a friend? Internet banking. Missing your family? Video call. The solution to all these problems is digitization. Today, without a proper digital presence, your business will not be armed with the techniques to beat your competition.
You may think that using more technology or changing workspace is the solution to digital transformation. Well, it is more than that.
It is a method of utilizing the digital world to reach out to your customers and bring them closer to your product. Utilize the vast new world of the digital platform to create a customer-centric image for your brand.
While the adoption of digital transformation could pave the way for development, it is not an easy target to achieve. The change entails not just embracing new technology, but to possibly change the organizational culture, how you acquire and interpret user/customer data, and interact with them.
Let's take a look at how you can adopt digital transformation:
5 Ds of Digital Transformation Strategy
The era that is majorly driven by digitization, an organization cannot hope to remain at the top without adopting digital transformation. With that being said, the process of adopting digital transformation is not a one-step solution. It includes certain important steps and strategies to complete the process. Here they are:
1.Digital-Savvy Leaders
To inculcate digital transformation into your company's veins, the process has to be adopted by all the sectors of your company. Taking such a big step entails acceptance from not only the employees and team members but also the leaders of the organization and those in the highest of positions: the stakeholders.
AT&T spends $250 million on training, and the CEO is directly involved in curriculum development so that the business is aligned from top to bottom.
A successfully implemented strategy is one where there is planning, and clarity in that planning. You must be able to foresee the outcome of the changes you are trying to bring. Your ideas should be so clear that everyone — from stakeholders to your employees — can see the results.
Reports reveal around 93% of company employees across all regions and industries believe digital savviness is a must to succeed. Alongside, the sense of purpose is equally necessary. Backed by the Leadership's Digital Transformation report, 72% of surveyed workers affirmed their "strong support towards working for an organization that tends to work with a "purpose" they believe in.
Additionally, 88% of those surveyed workers said how imperative it is to have digitally savvy leaders for their company's ability to reach and fulfill that purpose.
Less than half of employees surveyed stated about their organizations having created project teams that are purposely diverse towards digital savviness.
Besides, only 31% of them felt their companies are accessing the digital skills from their managers. And Less than 20% said their companies provide a particular focus on the digital skills and capabilities amid their high-ranking managers.
Becoming measurably more "effective" requires becoming more "affective."
Leaders willing to succeed do not have any choice instead to digitally transform themselves.
On the contrary, leaders who are not proactive in using data and analytics to understand their leadership aspects are most likely to underperform.
The current business environment requires CEOs or other industry leaders to be technically and digitally sought. Regardless of prior experience, the evolution in technology will need leaders to embrace continuous growth and development, which means demonstrating natural quickness and aptitude for technology.
A digital-first mindset will provide room for leaders to maintain upfront focus and inspire continuous innovation and improvement in the organization's transition towards a digital future.
Precisely, leaders who nurture their teams and workforce through a digital lens and can compose a put-together approach to their digital transformation journey by onboarding and empowering more talented employees.
For more extensive companies, these experts are specialized in technology infrastructures and operations like CIOs Chief Information Officer or digital change managers like CDOs(Chief Digital Officer)
Smaller organizations involve:
Investing in new roles.
Introducing outside parties or programs for top-priority digital agendas.
Investing and focusing on organizational training and development.
Successful facilitation of digital transformation requires leaders to maintain workforce engagement and check-in during all stages of the journey, handling the inevitable challenges and setbacks.
Digitally savvy- leaders are most competent in imparting that all-important sense of confidence among their workforce by establishing the company's mission and values and how they're aligned with the company's digital strategy and goals.
Leaders who exhibit digital literacy are also well placed to drive change in an organization by challenging and overcoming traditional barriers that block transformation and innovative ways of thinking.
The past witnessed its leaders mostly ascending and following the organizational hierarchy for quite long years.
Experience and loyalty, although still significant and essential, were believed to be the only critical factors in concluding the suitability of organizational leaders.
But that has changed now. Now companies embrace, identify and encourage future leaders by their capabilities of handling different scenarios and pushing their boundaries of responsibility.
What requires developing these skills?
Developing these skills to become digital leaders- professionals should take every opportunity to step off their comfort zone by proposing new challenges, providing solutions, and most important;y, the ability to learn and take calculated risks.
As we move forward towards the era of continuous learning, flexibility, and agility, developing intuitive abilities for sharing and assimilating knowledge will be worthwhile and valuable to all digital leaders.
Developing learning partnerships is an effective way to learn from other people's experiences, challenges, ideas.
Digital leadership and tech-savvy leaders are must-have, hard to find, and essential for any organization as businesses strive to find themselves making prominent positions in the future market.
But while recognizing the significance and usefulness of digital leadership should be a priority, companies, and workforces must work unitedly and focus on creating the right ecosystem for developing a pipeline of future digital leaders.
This means inspiring people to cross boundaries and welcome new challenges, and knowing how to recognize emerging talent.
2.Digital Security
I didn't want to grow bigger teams because you give the impression that it will be fixed by someone else. Here, security is everyone's responsibility.
— Christophe Blassiau
Cyber Security is a dynamic aspect of digitization. Perfectly secure services of today may be compromised tomorrow. This makes digital security highly complex and fast-changing.
In fact, one of the prominent aspects for organizations to transform digitally is maintaining and upgrading their data security as they expand.
While attempting extensive changes in the organization's "operations," adequate security measurements and precautions are often left for the latter to deal with, which causes severe business loss and issues in the future.
This should go without saying to ensure and avoid all potential data breaches and damages at the very beginning. It's high time companies make "data security" a priority.
Alongside, companies should consult privacy or legal experts before oversight practices and stepping into high-intensity projects or important initiatives.
Particular focus on documenting and governing the data collections and storage.
Today's hackers are so ruthless that they can bring down giant conglomerates with the click of a button. Companies must stay cautious, to keep their data safe. Lagging behind can be a disastrous feat causing loss of revenue, profit, and customers. You should be prompt with what is new and keep yourself updated on the latest security (DevSecOps) reports and protocols.
Despite the potential pitfalls of digital transformation, it continues to remain as exciting and challenging for businesses of all shapes and sizes. However, the foundation of any digital transformation journey should always start with data privacy, and without it, the whole building will collapse.
Security teams require transformation, too.
With the increasing security breaches, it remains a challenge for security teams to compute security at the speed of digital transformation and make sure that security spreads uniformly across every new or existing internal digital operation. The surface product development or every online existence or internet opportunity created.
Finding these solutions comes down to the IT culture and security operations. Experts believe- "Security teams have to go through a transformation, as well."
It's not easy; it requires being prompt and ready for any unseen threat. Many security personnel must also be willing to learn new skills to interact with the business organization and eliminate potential hazards.
When we talk of cybersecurity in digital transformations, several organizations are already "past the middle."
They have been through the automation process, and they're starting to look at Artificial Intelligence and predictive modeling.
"Organizations are headed on the right track; however, that doesn't mean they won't face compromises."
Similar to how software development was established but not integrated (before digital transformation), but now it is, the same is valid for security. All of these about digital securities have to come together now. It might just take time."
3.Data Silos: Unlocked
Companies that interact with their customers have mountainous data with them.
Today, several brands – across verticals – realize the requirement to align their online and offline data and digitally transform their data environment – to solve fragmentation, use real-time capabilities, and many more.
The data that does not integrate across software, tools, and applications are called "Data Silos."
Since the data cannot be easily shared across systems and departments, the data gets "siloed" within these tools.
When data gets fragmented beyond various access points, getting an accurate and complete picture becomes challenging. When this occurs, the information is typically required to be manipulated, transferred, and shared manually.
However, this can help in minimizing the data silos impact.
It generates another problem to manage: human error.
The standard Manual data entry has a tremendous error rate that can create data chaos.
The initial digital transformation purpose may simply look forward to enabling the data infrastructure properly and the methods to shift data to a digital environment – for instance, migrating to the cloud from on-premise.
Having so much data that you cannot change into meaningful information makes the data useless. When you use data analytics strategically, you can give meaning to the numbers.
In 2018, 98.6% of firms aspired to a data-driven culture— a 15.3% increase from 2017.
You can use the information you get when your customers use your product or services and analyze it to give out a personalized experience< to your customers. This can be as manageable as carrying out customized emails to creating customer-specific recommendations in product choice.
4. Digital Culture
Naturally, the data culture is when all the company members switch on to the potential of data.
The employees use, understand, and analyze this data, its potential, and limits. Ultimately it shows how data enables and does not block progress.
For a thriving and booming data culture, data must be instilled in the company's roots and principles that spread across and get applied in every aspect and every corner of the organization.
Also, the employees should be encouraged and empowered to act on the data.
Developing and empowering data culture stands essential in any organization's digital transformation journey.
Executing a successful digital transformation across the organization, it's significant to inspire shared value and competency towards data.
Traditional companies focus on the improvement of their product rather than enhancing customer service. This has led to the downfall of the prehistoric titans. Digital culture focuses on customer care and therefore bumps sales of the organization. Digital transformation, or any change for that matter, will most likely not succeed if the people working in the organization are not open to change or risk-taking.
A well-constructed and considered strategy is vital for businesses to successfully implement their digital transformation journey.
A clear strategy that answers all possible vital questions ( what, when, who, why, where, and how) contributes to creating a transparent, thorough, and positive impact on a data-first organization.
Unfortunately, companies don't realize and undermine whether and how the employees will accept the influence and impact of the organization's data culture across the organization.
Everyone onboard needs to understand and be thorough of the data strategy implementations- how and why they are getting implemented. How exactly will this data strategy benefit the organization and the individual progress that contributes to improving the business as a whole?
The effects should be apparent and first receive consideration from the employees across different teams.
It should be well elaborated and explained rather than just a written manifesto.
A survey by Microsoft reveals that a strong digital culture helps increase productivity, employee innovation, and employee empowerment from 7to 15 percent, 19 to 25 percent, and 20 to 36 percent respectively.
The adoption of digital transformation strategy brings about acceptance of a dynamic digital environment, openness to new methods of problem-solving, and autonomy amongst the employees. When bringing about this change, ensure that your employees are equipped for an overall transformation.
Data culture and digital transformation are interconnected and go hand in hand with processes, where the former accelerates the latter.
Developing a data culture before sustaining digital transformation, rather than during the shift, assures employee buy-ins from the very beginning of that process and promotes swift performance out of the gates. If organizational leaders don't invest the time to make this happen, their digital transformation progress may be slow to take off.
5. Digital Twins
Today's digital twins are much different from how they earlier used to be. They are accurate virtual representations of their real-world counterparts.
Digital twins have now entered the domain of making simpler to complex things as well. They range from something simple as a toaster to things as complex and massive as steam turbines with thousands of parts functioning at molecular level tolerances.
Digital twins have encompassed much more than just scaling or tweaking. Digital twins include things such as current operational state, maintenance records or historical performance data, critical dependencies, etc.
All this data contributes to tremendous advantages that we earlier couldn't find in historical digital twins – the capacity and intelligence to monitor assets, predict and prevent failures, performance optimization, reducing downtime or facilitating the creation of connected products.
Digital twins refer to the digital copy or a replica of a real-world entity or system. Many-a-times in manufacturing, you are required to create replicas of the finished product for closer analysis. This technology has been coupled with Artificial Intelligence and Data Analytics to create Digital Twins.
With The Internet of Things, a new era for companies has begun. It is undoubtedly transforming how we interact with our surrounding world – a world full of digital things in a "never witnessed before order.
Digital twins are evolving to be those essential elements that empower enterprises in responding to new operational challenges and create dynamic new commodities and services that leverage the true power of IoT.
Digital twins are the integration of artificial intelligence, IoT, analytics, and machine learning with a graphic representation to create animate digital simulation designs that can develop and change themselves according to their physical counterparts.
Digital twin stood out and is regarded as the vital aspect of the digital transformation journey because of its ability to learn and update itself constantly and continuously.
This constant evolution is through utilizing real-time data from sensors placed on the physical assets in order to represent functioning, environmental, and moving conditions in near real-time.
Digital twins learn:
all by themselves, utilizing the data acquired
from domain experts with in-depth knowledge.
from other related assets
Digital twins allow you to create a computerized simulation of your company. This gives you an insight into how your customers view your business.
Success Stories: Companies That Cracked The Digital Code
Digital transformation is quite a big gamble. It requires a detailed analysis of sales trends, customer behavior and lots and lots of data. The ever-changing market makes it quite difficult to collect accurate data. This makes it a challenge to find the right digitization techniques to use.
Companies also often mistake the use of more technologies as proper digitization. When in fact, correct digitization relies on using technology to appeal to your customers and increase sales.
Here are some companies that did it the right way:
General Electric: Taking inspiration from others around, GE hired experts from various departments for its own digital transformation. With the help of the experts, GE was able to build a platform through which it monitored the progress of industrial machines. This gave GE an added advantage from its competitors.
Saudi Telecom Company: When STC felt they needed a change in how they were reaching the young customers, they hired researchers to find what the youth needed. With the help of the newly collected data, they designed an app that provided a one-stop solution for all the people's needs.
Nike- One of the world's leading and most trusted athletic shoes and clothing companies, Nike, realized they were starting to become inactive and outdated. Of course, they have already made themselves a brand people recognize and resonate with.
Yet, there was a gap of constant interaction between its customers and the company.
Nike's leadership didn't linger with hesitation.
It focused on digitally transforming the company's mindset, supply chain management. This filled the gap, and the brand was able to connect better with its customer base.
The company focused on more robust data analytics, created more vigorous digital marketing campaigns, updated its e-commerce strategy, and ramped up its direct-to-customer sales.
Using more efficient and powerful digital customer data led Nike to open concept stores, establishing more membership opportunities and more employment generation, and elevated the online customer experience through apps and different digital media platforms.
Conclusion
If you already have not made up your mind, here is the gist of why you should go digital. Digital transformation brings you a new way to collect user data, to understand your customers' needs and their behavior.
With digital transformation strategies efficiently implemented, you could improve learning, monitor the execution of plans, and improve communication, and empower employees. It is the bridge between your present and the future of your company.