Using digital media and data along with traditional marketing methods (such as direct mail) is what digital marketing (also known as online marketing) means.
Agra, one of Uttar Pradesh's main cities. In addition, the city offers fascinating museums, a brave historical past, majestic temples, , and, of course, its famed markets.
It is an industrial centre with several IT enterprises and global multinationals. These firms are constantly on the lookout for talented digital marketers that can make a substantial impact on their sales and marketing, propelling their company to greater heights.
Digital marketing is a current trend that no company can avoid. It is the sole constant in an ever-changing corporate world. As a result, understanding advanced concepts and implementing successful plans practically requires a firm grasp of the fundamentals of digital marketing. This, in turn, contributes to the successful execution of digital marketing in the business, with the ultimate objective of the growth of an enterprise.
It is hard to choose the right Institute that meets our career needs. In this article, we have compiled a list of the 10 best digital marketing training institutes in Agra to start your digital career.
10 Best Digital Marketing Institutes in Agra
Digital Monk

Digital Monk is the only digital marketing training institute in Agra offering 100% Job Assistance for its students after successful completion of the Course. Digital Monk provides both classroom and online training.
The course is organized into 8 core modules and 12 specialized modules with more than 150+ Hrs of Practical training with 6 Live Capstone Projects. The course is designed for serious people who want to be in the top 1% of digital marketing. The course will equip you to crack all the industry certifications from Google, Hubspot, Microsoft, etc, a total of 15+ Globally recognized Certifications will be cleared by the students. The course is designed to make you a highly paid digital marketing professional.
Digital marketing course in Agra with curriculum & modules:
Introduction to Digital Marketing
Website Design
Content Marketing
Search Engine Optimization
Search Engine Marketing
Social Media Marketing
Email Marketing
Web analytics
Digital Marketing Strategy
Specialization Topics: Graphic Design, Youtube marketing, Mobile Marketing, CRO, Influencer Marketing, Growth Hacking, Marketing Automation, Affiliate Marketing, Sales Funnels, [50+ Topics], etc
Course Duration & Fees:
There Course duration is 2.5 Months for Weekdays ( Mon to Friday 2.5 to 3 Hours class) and 4.5 Months for Weekends ( Saturday and Sunday ( 4 to 5 Hours Class). We don't intend to drag the course for 6 months or 9 months, as the students will lose momentum in learning. Mode of training is available in both Classroom and online.
The Course Fee is $900 including all taxes.
Course Faculty:
The Faculties at digital Monk have more than 7+ Years of experience in digital marketing with Facebook and google certified, a few of them have their own digital marketing agencies working on 100s of clients' projects to working for Top MNCs running campaigns in Crores of Rupees. The trainers cover all the popular digital marketing tools.
Course Highlights:
Industry's Most Advanced Curriculum
350+ hrs of Practical Training
100% Placement Guarantee
50+ Modules
5+ Industry Experts
Best in Class Learning Management System (where you can access our recorded classes)
Premium Tools worth INR 1,40,000/- ( All original Tools with license keys)
15+ Globally recognized Certifications
10 Days No Question Refund Policy
Best in class Infrastructure
Industry Experts who take your classes
Freelancing Opportunities ( Work from home opportunities)
Learn to make money through Affiliate Marketing
Build your own business and eCommerce website.
Course Projects:
Designing a Business Website
Designing an Ecommerce Website
Designing Landing Pages
30-Day Social Media Strategy
Running Paid Google and FB Ads
Doing SEO for a Complete Website
Running Email Campaigns
Lead Generation Campaigns
Course Certifications:
6 Google Ads Certifications
1 Google Analytics Certifications
5 Hubspot Certification
1 Microsoft Bing certification
1 Course Completion Certificate.
Student Reviews:
Contact us:
Email: [email protected]
Phone: +91 8310657401
Institute Address: 3rd Floor, No.944, 16th Main Rd, Kuvempu Nagar, BTM 2nd Stage, Bengaluru, Karnataka 560076
DigitalKal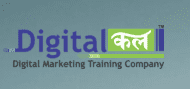 Digitalkal is one of the best digital marketing institutes in Agra. They have training courses intended for everyone, including students, professionals, entrepreneurs, corporations, and freelancers.
DigitalKal's trainers are all professional experts from both business and academia. Their goal is to prepare everyone to flourish in the digital marketing profession.
The duration of this digital marketing training in Agra is three months. To find out the costs, please contact them using the information provided below. They offer over 16 certificates with guaranteed placement and access to the study material for a lifetime.
Contact Details:
Address: 159 A Nehru Nagar Bye Pass Road, Agra, Uttar Pradesh-282001
Phone: +91- 9667784144
Email: [email protected], [email protected]
Website: www.digitalkal.com
Sprintzeal

Sprintzeal, founded in 2014, is a well-known provider of digital marketing course in Agra, Uttar Pradesh. Their courses are ideally tailored to the needs of the digital marketing profession for both beginners and professionals.
Sprintzeal's trainers have over 18 years of combined expertise and have trained more than 15000 students. The institution not only provides training programmes but also organises webinars and seminars on important topics of digital marketing, as well as workshops.
The trainers are visiting professors at around 45 schools. Even their website contains a variety of digital marketing materials and guidance for free of cost. Sprintzeal offers a wide range of digital marketing courses not only in Agra but has spread to many other locations pan India.
There are over 20 modules designed and taught by expert trainers. It provides 100% placement assistance to all of its students and even organises career fairs.
The Master's degree in digital marketing includes SEO, Paid Ads, and course completion certificates. Furthermore, the institution teaches students for certifications in Google Adwords, Google Analytics, Bing Ads, HubSpot, and SEMrush.
Contact Details:
Address: N/A
Phone: +91 9008230179
Email: N/A
Website: https://www.sprintzeal.com/all-courses
MCEI

MCEI is the School of Ideas that provides digital marketing training in Agra, Uttar Pradesh. MCEI was founded in 1991 and has established competence and experience in the academic and digital worlds.
Their goal is to thoroughly explain to their students all of the key points and aspects of digital marketing that they have bundled into one course.
The digital marketing program at MCEI in Agra lasts 6 to 6.5 months. They provide knowledge along with real-world projects and case studies.
They assist with resume building and interviews helping the students in placements. They also provide lifetime access to their video library and tools.
Contact Details:
Address: D-660/A-87 PNB Road, in front of Shanta Palace, Kamla Nagar, Agra, Uttar Pradesh 282005
Phone: +91 78952 21234
Email: [email protected]
Website: http://mcei.in/
Agra School Of Digital Marketing (ASDM)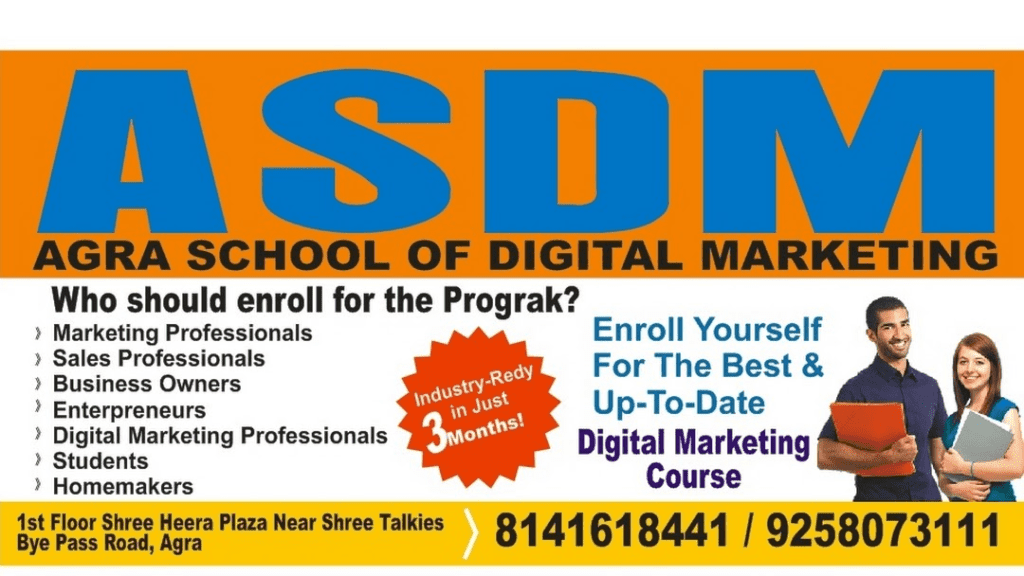 ASDM, or Agra School of Digital Marketing, is one of Agra's fastest-growing digital marketing institute. Its headquarters are in Agra , and other branches are in other localities.
The institute is affiliated with Uttar Pradesh University and is an official partner of Amazon India training. The institution also provides business consulting and training for digital marketing.
At Agra School of Digital Marketing, the online program requires students to learn at ease and consists of around 19 courses. E-books, video lessons, and PDFs are examples of learning materials. The program also includes guest lecturers and expert discussions.
The advanced program lasts 150 hours or three months and is accredited by ETEC in France. It mostly benefits entrepreneurs and company owners. Candidates attend classes five days a week, two of which are practicals. This curriculum consists of two days of training sessions with an Amazon-trained e-commerce specialist.
ATES, Amazon India, skill guru, and ETEC Europe have collaborated on the professional program. It is a five-month course with the most up-to-date psycho-technical curriculum, developed in partnership with Skill Guru. This course includes advanced digital marketing, professional website design, and graphic design.
Candidates may expect to receive guaranteed freelancing project training, as well as the development of various sales and marketing abilities, company management skills, and communication skills. ASDM guarantees 100 per cent placement. The professional program includes a two-month internship with Amazon projects. To enrol in this course, you can contact them using the below details:
Contact Details:
Address: 1st Office, 1st Floor, Shree Heera Plaza Near Shree Talkies, Bypass Road, Sikandra – Bhagwan Talkies Rd, Agra, Uttar Pradesh
Phone: 080065 55006
Email: [email protected]
Website: https://agra-school-of-digital-marketing-digital.business.site/
Training SEO
Training SEO is a digital marketing institute in Agra that helps individuals improve their digital marketing knowledge and abilities. Their training sessions are prepared by experts and individuals who are well-versed in the field.
They will assist you in obtaining the top digital marketing training in Agra in this competitive area. This digital marketing course in Agra costs INR 18999/- and includes Digital Marketing Fundamentals, Website Performance Measurement, Local Business Submissions, Content Strategy, Link Building, etc.
Contact Details:
Address: 8/195, Engineer's Colony, Opposite Omaxe SRK Mall, Bye Pass Road, Agra, Uttar Pradesh-282005
Phone: 84450-22510
Email: [email protected]
Website: www.traininginseo.in
Impulse Institute of Management – iiM

Impulse Institute of Management (iiM) is one of Agra's best digital marketing training institutions. Their digital marketing course is designed to cover practically every element of the field.
Digital Marketing Strategies, Website Optimisation in Digital Marketing, PPC, SMM, Digital Marketing Tools etc., are covered in their course curriculum.
iiM training focuses on three critical areas: strong mentors, actual projects, and job placement. The placement team assists individuals in developing resumes that will land them the greatest digital marketing jobs.
Contact Details:
Address: Shilpgram Road near Hotel Radisson, Agra, Uttar Pradesh 282001, India
Phone: 078308 86688, 096756 68866
Email: N/A
Website: https://iimagra.business.site/
Arena Animation

Arena Animation has been providing courses in the Animation, Web designing, VFX & Multimedia fields since 1996.
Arena Animation has been offering one of the most advanced digital marketing courses in Agra. It provides a comprehensive program at a reasonable cost.
At Arena Animation, the training staff consists of digital experts who are also the founders of successful companies such as Fast Web Group, Digi Chefs, Web Step-Up, and Recommend.ly. You can pay half of the course fees when you enrol and the balance when you receive your offer letter.
Their digital marketing training in Agra lasts two months. They provide live training sessions as well as international certifications. They provide 100% placement assistance at an affordable fee structure, as well as free digital marketing tools.
Arena Animation is a company that offers one-on-one mentoring. Their course is meant to be tailored to the student's needs for them to polish their digital marketing abilities to deal with real digital problems. Their curriculum is more task-oriented providing internships for students.
Contact Details:
Address: 5th Floor, Raman Tower, Near ICICI Bank, Sanjay Palace, Sanjay Place, Civil Lines, Agra, Uttar Pradesh 282002
Phone: +91-9058884555, +91-8923235555
Email: [email protected]
Website: https://www.arenaagra.com/index.html
Digital Edge Institute

Digital Edge Institute is regarded as one of the best digital marketing training institutes in Agra, with branches in eight different locations. They concentrate on delivering good training and preparing students for the job market. They have trained over 8000 students using well-planned courses to turn them into digital marketing specialists.
Digital Marketing Overview, SEO, Content Marketing, Google Analytics, Email Marketing, Real-Time Traffic, Display Advertising, SMM, Freelancing Projects, and other topics are covered in the course.
Contact Details:
Address: N/A
Phone: +91-844-747-0220
Email: [email protected]
Website: https://www.digitaledgeinstitute.com
Proideators

Proideators offer many extensive programs that educate students on all they need to know about digital marketing in Agra and turn them into field experts. Students receive one-on-one instruction and monitoring from industry specialists.
They provide thorough classroom instruction and have access to more than 30 premium digital marketing tools.
The course includes 14 modules that cover all aspects of digital marketing. The first two courses cover the fundamentals of marketing and customer behaviour. Hands-on live projects and case studies are part of the training. There are 50+ hours of training sessions and two hours of interview preparation.
Backup courses are available for students who miss classes. Candidates receive Bing Ads and professional SEO and PPC certifications. The institute offers complete employment assistance, collaborating with various placement cells.
Contact Details:
Address: 514, Anand Deluxe, 5th floor, Ajabpur Khurd, H N B Colony, Dehradun, Uttarakhand – 248001
Phone: +91-80700-80999
Email: [email protected]
Website: https://www.proideators.com
Digital Vidya

Digital Vidya is one of the most trusted brands in digital education and is regarded as Asia's top brand in the Digital Marketing training Program in Agra. They expose their students to over 100 tools utilised in the business, resulting in tool-based training that allows students to gain hands-on experience. They have trained approximately 20,000 students thus far.
Digital Marketing Essentials, Online Advertising, Social Media Marketing, Sales Optimization, Online Earning, Email Marketing, Inbound Marketing, Web Content Writing, and other topics are covered in the course.
Contact Details:
Address: Agra, Uttar Pradesh
Phone: +91-80100-33033
Email: [email protected]
Website: https://www.digitalvidya.com
Conclusion
The following are the best Digital Marketing Courses in Agra. Consider the course fees, duration, and curriculum while selecting one of these Digital Marketing training colleges to advance your profession in the digital arena.
The most crucial part of any Digital Marketing training is a hands-on experience to observe a Digital Marketing strategy and planning operations in the actual world.
Examine each institute's curriculum to determine whether they give appropriate practical training using Marketing tools to help you become imaginative and innovative in your Digital Marketing plans for a commercial organisation.