Enroll in the top digital marketing courses in Tambaram to kick-start your career. The rapid penetration of 627 million users is increasing the demand for digital marketing strategies all over the globe.
Small and big companies use digital marketing strategies to promote their products. So all organizations need a skilled digital marketer to boost their marketing and sales.
More than seven lakhs jobs are still unoccupied; it is the most promising career in the digital world.
Here is a list of the best institutions for digital marketing courses in Tambaram to kick-start your career. This list has been created based on the proper syllabus, affordable fees, mode of education, and placement opportunities.
10 Best Digital Marketing Courses in Tambaram
Digital Monk

Digital Monk is the only digital marketing training institute offering 100% Job Assistance for its students after successful completion of the Course. Digital Monk provides both classroom and online training.
The course is organized into 8 core modules and 12 specialized modules with more than 150+ Hrs of Practical training with 6 Live Capstone Projects. The course is designed for serious people who want to be in the top 1% of digital marketing. The course will equip you to crack all the industry certifications from Google, Hubspot, Microsoft, etc, a total of 15+ Globally recognized Certifications will be cleared by the students. The course is designed to make you a highly paid digital marketing professional.
Digital marketing course curriculum & modules:
Introduction to Digital Marketing
Website Design
Content Marketing
Search Engine Optimization
Search Engine Marketing
Social Media Marketing
Email Marketing
Web analytics
Digital Marketing Strategy
Specialization Topics: Graphic Design, Youtube marketing, Mobile Marketing, CRO, Influencer Marketing, Growth Hacking, Marketing Automation, Affiliate Marketing, Sales Funnels, [50+ Topics], etc
Course Duration & Fees:
There Course duration is 2.5 Months for Weekdays ( Mon to Friday 2.5 to 3 Hours class) and 4.5 Months for Weekends ( Saturday and Sunday ( 4 to 5 Hours Class). We don't intend to drag the course for 6 months or 9 months, as the students will lose momentum in learning. Mode of training is available in both Classroom and online.
The Course Fee is $900 including all taxes.
Course Faculty:
The Faculties at digital Monk have more than 7+ Years of experience in digital marketing with Facebook and google certified, a few of them have their own digital marketing agencies working on 100s of clients' projects to working for Top MNCs running campaigns in Crores of Rupees. The trainers cover all the popular digital marketing tools.
Course Highlights:
Industry's Most Advanced Curriculum
350+ hrs of Practical Training
100% Placement Guarantee
50+ Modules
5+ Industry Experts
Best in Class Learning Management System (where you can access our recorded classes)
Premium Tools worth 140,000/- ( All original Tools with license keys)
15+ Globally recognized Certifications
10 Days No Question Refund Policy
Best in class Infrastructure
Industry Experts who take your classes
Freelancing Opportunities ( Work from home opportunities)
Learn to make money through Affiliate Marketing
Build your own business and eCommerce website.
Course Projects:
Designing a Business Website
Designing an Ecommerce Website
Designing Landing Pages
30-Day Social Media Strategy
Running Paid Google and FB Ads
Doing SEO for a Complete Website
Running Email Campaigns
Lead Generation Campaigns
Course Certifications:
6 Google Ads Certifications
1 Google Analytics Certifications
5 Hubspot Certification
1 Microsoft Bing certification
1 Course Completion Certificate.
Student Reviews:
Contact us:
Email: [email protected]
Phone: +91 8310657401
Institute Address: 3rd Floor, No.944, 16th Main Rd, Kuvempu Nagar, BTM 2nd Stage, Bengaluru, Karnataka 560076
Course Brochure: Download here
IIDE The Digital School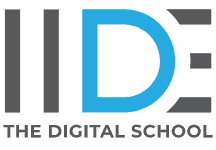 IIDE is one of the top institutions for digital marketing courses in Tambaram. It is an award-winning online institution in 2021 for its contribution to the best training in digital marketing.
The institution offers an updated and realistic curriculum for the students. The faculty are industry-based and experienced and deliver high-quality lectures.
The classes are flexible, and video recordings of previous lectures are available. IIDE offers internship facilities, eight brand projects, modular assignments, 20 plus industry tools mastery, and 13 certificates.
You will get three options of courses to choose from:
Post-graduation in digital marketing(offline)- MBA in digital marketing delivers specialisation in any two modules with a managerial skill set.
Online digital marketing course- The syllabus is crafted on a hybrid model, practice assignments and class projects.
Short-term certification courses(self-paced courses)- Courses on social media marketing, Google analytics, online reputation management, Email marketing, Google Ads, and Conversion Rate Optimization(CRO) are offered in IIDE institutions.
Contact Details:
Address: Tambaram, Chennai
Ph no: 9619958615
Email: [email protected]
Website link: https://iide.co/
FITA Academy

FITA is one of the leading training and placement institutions run by IT professionals. It has spread its branches in cities like Chennai, Bangalore, Coimbatore, and Madurai.
FITA arranges training for the students from the top MNCs to face the real corporate experience. FITA has trained more than fifty thousand students.
FITA academy's digital marketing course in Tambaram is an extensive training program. Their model program helps the students to gather knowledge on strategies and techniques as digital marketers.
The learning materials are crafted as per the industry standard, which the industry experts select. The faculty of FITA academy has twelve years of experience. Both offline and online modes of classes are available in FITA.
It provides globally recognised certificates with live project opportunities. The batch timing is flexible; weekend and weekday batches are there. FITA provides placement support for its students.
Contact Details:
Address: Tambaram, Chennai
Ph no: 9345045466
Email: [email protected]
Website link: https://www.fita.in/
Green Technology, Tambaram

Green Technology is known for its practical approach to training on competitive technologies. It is one of the oldest training institutions in Chennai, providing training on Big Data DevOps, AWS, Python, and Robotic Process Automation.
Green Technology deals with three modes of training; classroom, corporate, and video-based. Their lab handouts and case studies are the strength of their study materials.
Green Technology Tambaram is one of the best training institutions for digital marketing. They have the best placement facilities of all other institutions.
The special placement cell provides practical training to crack interviews in MNCs. They help in resume building and give aptitude sessions.
The unique feature is the updated syllabus, which is revised monthly by the trainers. Green Technology Tambaram has an advanced infrastructure with lab facilities. Here you will get weekday classes, weekend classes, and evening classes.
Contact Details:
Address: Tambaram, Chennai
Ph no: 7550166012
Email: contact[at]greentechnologys.com
Website link: http://www.greenstechnologys.com/
ACTE

ACTE has five organisational pillars, i.e., the state associations, regions, divisions, the boards of directors, and delegates.
ACTE collaborates with the IT industry to fill the gap in their requirements and design the syllabus per the industry standard. More than six hundred industry experts are involved in preparing the curriculum.
ACTE is one of India's leading IT and digital marketing training providers. The digital marketing course in Tambaram is available from basic to advanced levels.
ACTE conducts proper training to get placement in the top MNC companies. They also focus on soft skills development and resume building. ACTE has a good tie-up with different top companies as a hiring partner.
ACTE has one-on-one training facilities, customised training for fresh job holders, and short training courses.
Contact Details:
Address: Tambaram, Chennai
Ph no: 8376802119
Email: [email protected]
Website link: https://www.acte.in/
Besant Technologies

Besant Technology has its branches in Chennai and Bangalore city. They have online training for other countries, including the USA, UK, UAE, and Saudi Arabia, with short certification courses and projects.
Besant Technology promises to provide job assistance at a low price. They have a record of placing over 2,500 students in top companies.
Besant Technology offers online and self-paced videos for digital marketing courses in Tambaram. They will help sharpen your knowledge of Google ads, PPC campaigns, SEO, SMM, Facebook marketing, and analytics.
Besant Technology provides live industry training and 100% placement facilities. Trainers are from top companies like CTS, TCS, HCL Technology, IBM, Philips Technologies, etc.
Besant will guide you to becoming Google-certified in digital marketing and job-oriented training to face interviews. They provide weekend and weekday classes at their institution.
Contact Details:
Address: 1st floor, No.2a Duraisamy, Reddy st, near passport Seva, Tambaram West, Chennai, Tamil Nadu600045
Ph no: 9962504283
Email: [email protected]
Website link: https://www.besanttechnologies.com
Level Up STC-Software Training-Tambaram, Chennai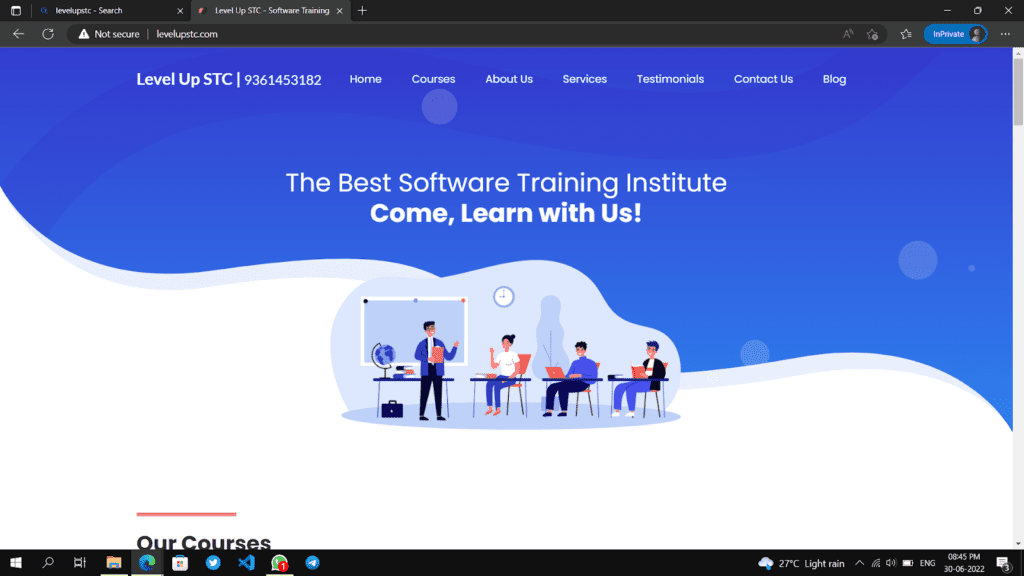 Level Up STC has fifty active courses and placement tie-ups. Thirty thousand students have been trained by this institution with flying colours.
They focus on individual development and fulfil their requirements for growth. Some of the best courses at this institution are Power BI, Digital Marketing, Python, Manual Testing, Tally ERP-GST, PHP, and CORE Java.
Level Up STC is an institution for software training and digital marketing in Chennai. They provide quality training at a very affordable rate. The motivation of the institution is to teach new technology and get better jobs.
Level Up STC supports soft skills development in their institutions and rural areas. The faculty of this institution are highly qualified and cooperative with the students. The curriculum is as per the industry standard, with hands-on training facilities.
Level Up STC gives you job placement with better training. Batches are flexible, and the strength of the class is also less.
Contact Details:
Address: 145 ,25A, Erikkarai St, Vinayagapuram, Chennai, Tmilnadu.
Ph no: 9361453182
Email: [email protected]
Website link: http://levelupstc.com/
IPCS Automation Tambaram

IPCS was formed in 2008 in Kochi and expanded its institutions in Kozhikode, Western Europe, Africa, Nigeria, Qatar, UAE, Kenya, and KSA.
They have collaborated with universities to provide quality education to the students of different colleges. IPCS achieved ISO certification in 2014, maintaining the same quality in every other branch.
IPCS has a remarkable record of providing quality training and intelligent solutions. They are popularly known as Areva Digital.
They have a professional diploma in digital marketing, an advanced course in online entrepreneurship, an advanced course in digital marketing, certified SEO, a certified SEM professional course, and social media marketing.
More than four thousand students were trained and placed in top MNC companies. IPCS offers internships with handsome pay and practical training methods for the students. It has some unique courses on international web professionals, video blogging and super blogging courses.
IPCS provides an additional technical certificate that makes you stand out from other institutions.
Contact Details:
Address: First floor, old no. 3, new no. 5, Bakthavachalam Street, Tambaram West, Chennai, Tamil Nadu.
Ph no: 9092146664
Email: [email protected]
Website link:https://ipcsautomation.com/
Digital Academy 360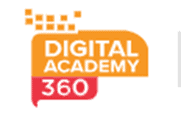 Digital Academy 360 offers courses on digital marketing, content writing, graphic design, and web design. Development courses for freshers, job seekers, and entrepreneurs are also delivered.
Digital Academy 360 has thousands of hiring partners like Amazon, Accenture, Yahoo, Cognizant, KTM, BYJUs, and many more. Overall, ten plus centres in south India.
Digital Academy is an award-winning digital marketing institution, awarded as the "Best Digital Learning Institution'. It is an online platform for the PG programmes in Digital Marketing and Analytics and Skill Diploma in Digital Marketing courses.
Digital Academy has an exclusive strategy of granting guaranteed jobs, or they will refund your money. You get a global certificate at the end of the course under the trained and experienced faculties.
With Digital 360, you will enhance your knowledge of forty premium tools with live industry training.
Contact Details:
Address: Chennai, Tamil Nadu.
Ph no: 7353515515
Email: [email protected]
Website link: https://digitalacademy360.com/
EduPristine

EduPristine covers forty-plus modules in a fifty-hour program. Here you can work on forty-plus industry tools. This institution provides classes on digital marketing and soft skills.
EduPristine has a strong hiring partner; the placement team shares the profile and provides students with the opportunity for an interview. Special sessions, case studies, and student groups are the USB of this institution. EduPristine has an extraordinary style of evaluating the student's success; continuous mock tests before the exam.
EduPristine has a digital library for its students to access; advanced videos assist in deep knowledge. Corporate training is there for the working professional.
Contact Details:
Address: Chennai, Tamil Nadu.
Ph no: 18002005835
Email: [email protected]
Website link: https://www.edupristine.com/
Intellipaat

Intellipaat offers a self-paced digital marketing course; designed for working professionals and college students. It is forty-three hours of videos in a self-paced mode and fifty live online sessions.
Intellipaat guarantees three interviews for all the students and twenty-plus industry projects.
IIT Madras Centre for Continuing Education (CCE) students receive advanced certification from IIT Madras.
Contact Details:
Address: Chennai, Tamil Nadu.
Ph no: 7022374614
Email: [email protected]
Website link: https://intellipaat.com/
Criteria for choosing the best digital marketing course in Tambaram
Recognise your preferences: Start introspecting yourself and why you chose digital marketing as a career. Analyse your academic background. Before selecting any course related to digital marketing; if you prefer to work on social media, select media marketing courses.
Survey the course duration and projects offered: Digital marketing is a practical field, and hands-on learning is a crucial part of the course. Check the number of live projects, internship opportunities, and industry-based training.
Updated syllabus and cover all modules: It is most important to note that the course syllabus is updated and should cover all the modules listed in the curriculum. For instance, the institution should teach you advanced methods in the SEO module.
Tools and services: Every digital marketing course covers a minimum of forty industry tools and services. Some tools are given as a freebie from the institution, like Ahrels, SEM, WordPress themes, and many more.
Fees: Compare the fee structure of the different institutions; as per your pocket, select the course and institution.
Online vs. Offline: As per your preference, you can decide on the classroom mode. For instance, some fellows like the self-paced course because of a job, whereas some people need an extra push to study.
Research on the certificate: The details of an institution's certificate matter a lot. The possibility of fake certificates is higher in the case of online digital marketing courses. So visit the website and check the alumni before getting into a trap; it's better to be safe than sorry.
Conclusion
Every candidate has a different and distinct need for a pursuing career in digital marketing. So while considering the right institution for your digital marketing course in Tambaram, keep in mind to visit the website and check all the information.
Before admission, check information on accreditation and recognition, updated curriculum, trainers, and placement facilities. Once you are satisfied, book a demo class to clear your doubts.
Digital marketing is a flexible course; any fresher or professional in another field can join. One can get different job profiles like SEO specialist, analytic manager, virtual reality developer, web designer, and content writer to select from.