The internet has evolved from a curiosity-driven hobby to a gateway of limitless possibilities. Furthermore, it has been our dependable support during the pandemic and its terrible consequences on our career and personal life. With its capability to improvise almost any device/process, the internet has spawned job options that didn't exist only a few years ago!
This is where digital marketing comes into play, especially in 2021, because it is such a huge opportunity that most businesses are yet to realize their full potential on the online landscape. Today, we will have a look at seven ways to get a rewarding digital marketing job, even if you're a fresher with little to zero experience. Let's begin.
What Is Digital Marketing
In basic words, digital marketing (also known as online marketing or internet marketing) is a type of marketing that uses electronic technologies to reach customers, such as social media, email, mobile devices, applications, and search engines.
Before we dig deeper into how to get a high paying digital marketing job, let's understand the opportunities:
Is Digital Marketing A Good Career Path
Before we begin, it's noteworthy to know if it's worth investing your initial career days or if digital marketing has reached saturation. Frankly speaking, the digital marketing industry is far, far away from being saturated. There are plenty of digital marketing companies, and even platforms are continuously evolving. However, most businesses, especially in India, haven't yet made their online debut, and it goes as far as making a social media profile in general. Right from enterprise solution providers to start-ups, everyone is in dire need of online visibility in their respective sectors.
Let's take a brief look at the current state of digital advertising spending: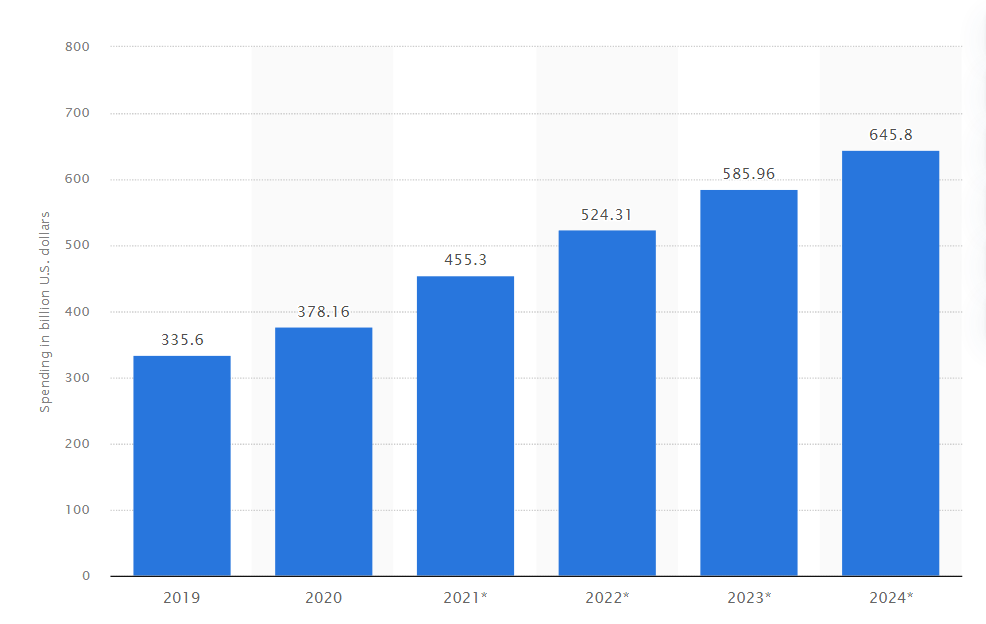 The Shortage Of Digital Marketing Talent
According to research by Kstart and YourStory, the digital marketing sector is expanding at a rate of 40% year over year, compared to 5% to 6% for many other industries. According to the research, internet marketing is a better alternative for startups than conventional media. Because firms may evaluate the efficacy of their marketing plan, throttle expenses, and reach out to targeted prospects even on a small budget.
That is why every sort of company (large and small, old and new) realizes the value of digital marketing. It's no surprise, however, that the digital media business is growing at a rate of 40% year over year, while other industries are faring at 5% or 6%.
According to 66% of respondents, finding competent personnel is a big barrier since so few people understand digital marketing. The required skills are very scarce in the market, so much so that even professionals with inadequate caliber sometimes manage to secure good profiles. When it comes to recruiting competent digital marketers, businesses are experiencing the ill effects of scarcity. The situation has resulted in many companies shifting towards outsourcing to a digital marketing agency in the USA.
The results of the poll show that the verdict is still out on that one. According to the survey results, 46% of respondents use digital firms to implement their marketing plans, while 43% use freelancers.
Top Digital Marketing Jobs (With Salary Insights)
Digital marketing, as a sector, is bursting at the seams with chances right now, as every business and individual strives to make a digital footprint on the web. Online spaces have evolved into powerful branding, advertising, and marketing platforms, resulting in an increased demand for experts navigating this terrain.
The average digital marketing specialist compensation you may earn is anywhere between 12 to 61 thousand rupees a month as a digital marketer. With that stated, it's impossible to pinpoint the highest digital marketing compensation. However, for the sake of our readers, here are some of the highest-paying digital marketing positions:
Digital Marketing Specialist

Digital Marketing Managers

SEO Specialists

Visual Designers

Content Manager
Email Marketing Specialist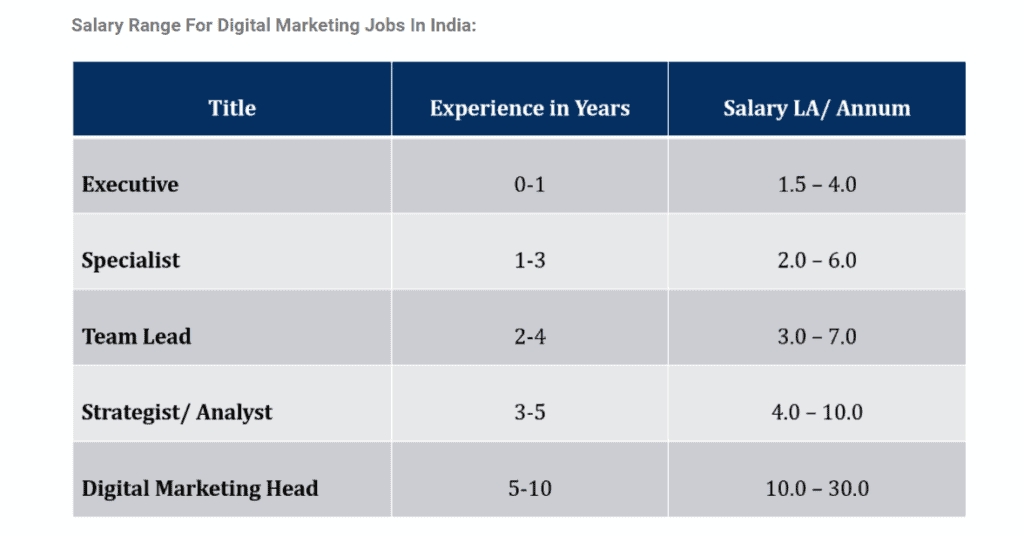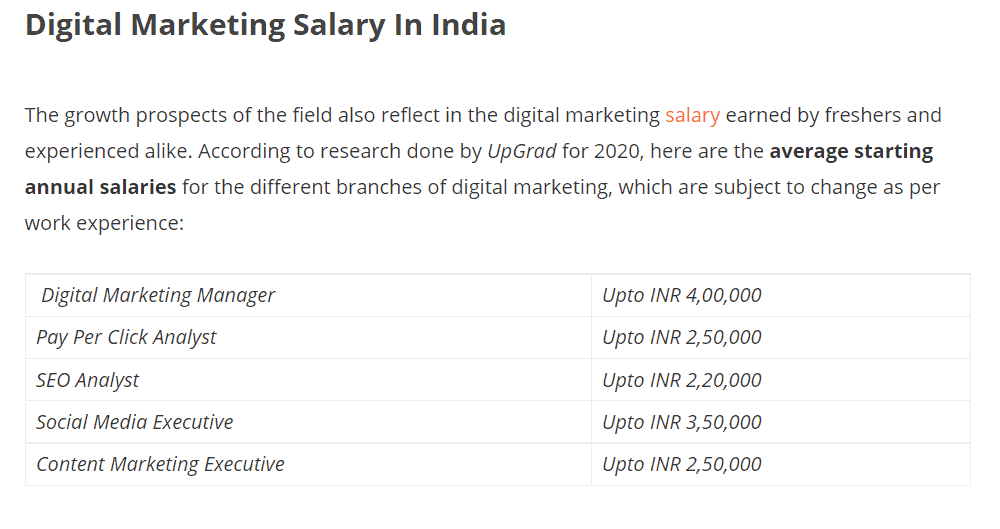 Currency arbitrage is among the leading reasons why it is preferable to hire an Indian digital marketing agency in the USA.
Skills You Need To Get Hired
Here are five of the most crucial skills for different profiles that you need to have to be a good candidate for a digital marketing position:
1 Video Development
Video is sweeping the internet, and it shows no signs of slowing down. Videos can retain customers' attention on retail sites for two minutes longer than the norm (which in the digital world is a lifetime). As a result, a well-optimized video may increase your chances of being in the top Google ranking position by at least 50%.
Keep in mind that these simply estimate that will vary depending on who you ask. Still, the point is that when it comes to video, the majority of numbers indicate considerably higher conversion, engagement, and SEO rankings.
2 SEM & SEO
Search Engine Optimization (SEO) is crucial to all stages of digital marketing. Therefore anybody entering the sector should have a basic understanding of it. While you may definitely delegate the most technical back-end work to the team's more technically savvy members, a strong grasp of best practices and how to optimize all types of content is equally essential for a successful digital marketing campaign.
On both a technical and creative level, SEO and Search Engine Marketing (SEM) dictate your whole digital strategy, and you'll need to be able to communicate with other colleagues about it, so you won't go very far if you don't grasp the basics. Most importantly, you should have a basic idea of how different tools work if you are serious about SEO/SEM jobs apart from the platform algorithms. This is the bare minimum to get recruited by any agency providing SEO service.
3 Content Marketing
Content is at the heart of digital marketing, and no matter what developments happen, content marketing will remain a vital component of the game. However, content marketing is a significant task in and of itself. You must be able to write high-quality, SEO-friendly content of various types and how to successfully engage readers.
To make matters even more difficult, keep in mind that information can come in various formats, including video, social media, emails, online content, blogs, e-books, films, whitepapers, and so on. You should also be well-versed in social media marketing since this will tie in with most content marketing strategies.
4 Email Marketing
You must be able to do more than just send out routine messages. You must optimize your email marketing by developing a convincing plan, undertaking email template development, automation workflow development, optimization, renderability testing, and tweaking content depending on what performs best. It's also critical for today's marketers to know how to build distribution lists and employ email nurturing to expand their company prospects.
5 Analytics / Data
Monitoring and reporting using such technologies is simple enough. Still, the difficult part is figuring out how to acquire and use that data to learn more about customer behavior and apply it to new solutions that increase traffic and conversions.
Most organizations (even tiny ones) have a lot of data to track, and excellent digital marketers know how to collect and use that data effectively. Most businesses will constantly look for employees who can "read" data and recognize which data to apply to improve future company strategies. It requires working knowledge of various BI tools and strategic thinking to envision what data will bring more value to the organization.
How To Get A Job In Digital Marketing Without A Degree Or Experience
To work in digital marketing, you don't need a college diploma. Although it is necessary for some organizations, having a strong understanding of digital marketing and its work is more vital. But it isn't a full-time course in most regions, and training is usually entrusted to internships and vocational courses. Employers are also aware that a college or university degree will not educate you more than a decent digital marketing certification or provide you with hands-on job experience.
Nothing prevents you from working as a freelancer or agency owner in digital marketing, whether you have a degree or not, which makes it an excellent career choice. We'll go through how to acquire a career in digital marketing without any prior experience or a degree in this article.
1 Finding Your Specialty
Digital marketing is too broad as a field, and to give an example, consider the PPC Ads Specialist profile. It is one of the sub-areas of paid SEM, and yet it requires years of experience for specialization. Digital marketing is like a universe, and you don't need to be good at many things. Instead, see what you can do best and have a working knowledge of other fields.
Instead of knowing a little bit about everything but not being able to master any of them, you should concentrate and specialize in a group of related areas and do them all at a master level. Concentrate on one field that you believe is the most compatible with you. Companies are increasingly hiring for specialized positions and seeking employees who are experts in a certain field.
2 Build A Strong Online Personal Brand
It is necessary to project your image as a reliable personal brand here; we are not talking about the number of followers. It is about consistently posting on one or two platforms of your choice, engaging with people who comment under them, and engaging on other's posts.
You should also be great at networking with renowned individuals of your preferred digital marketing niche. Establish friendships by approaching them, help them with their work, intern with them, and secure recommendations. This is arguably one of the best hacks for newbies in digital marketing.
3 Building Your Marketing Portfolio
A marketing portfolio highlights your greatest work and demonstrates to potential employers that you're qualified for the digital marketing position you're looking for. In addition, you may utilize an online "brief generator" to make up fictional clients to illustrate what you can accomplish if you don't have any clients to put up a portfolio.
Perhaps, your resume is of no use when discussing digital marketing jobs; it is more of a formality used by HR staff for clerical purposes. However, we highly recommend building an online marketing portfolio to help recruiters get a hands-on understanding of your work. This could be in the form of a website where you can publish your work, your LinkedIn posts, or even a Google Drive folder. Highlight your achievements, display the best of your work, and make sure to send only relevant items to increase your odds of getting that high-paying job.
4 Surrounding Yourself With People In The Industry
Connecting with local digital marketing specialists may be extremely useful to your career advancement. Being well-known in such circles can keep you informed about employment openings, and developing good contacts may also help you find a mentor who can guide you in the proper direction. In addition, surrounding yourself with professionals who are enthusiastic about their job can motivate you to work harder and stay on top of current trends.
If you can't make it to events or gatherings, interact with individuals online by adding them on LinkedIn, following them on Twitter, and participating in conversations. First, engage with their content, ask for some tips, and slowly build relations that will help you get an insider view of the landscape.
5 Dedicating Time To Learning
Because of its untapped potential, digital marketing is an excellent place to start. Freelancing is a great way to get started in the area and improve your soft skills as you go. You'll always receive on-the-job training for technical skills. Soft talents such as writing, communication, and technological knowledge, for example, cannot be taught. These skills can only be curated, and they can help you separate from the crowd and bring something special to the table. 85% of employment accomplishments are attributed to soft skills. However, you can always sign up for courses on Udemy, SEMRush, and Linkedin Learning to learn about your area of interest.
6 Build An Impressive Resume
Some of the most successful people are said to be lifelong learners. You can maintain your finger on the pulse of the present market and forthcoming trends by continuing to study. When it comes to laying the groundwork, there are a plethora of tools available, such as Moz's SEO beginning course, Google's own certifications, and numerous more, that may demonstrate to potential employers that you are serious about digital marketing.
7 Have A Strong Presence On LinkedIn
LinkedIn has lately transformed from an online resume site with content posting options to a content-driven platform with online resume-like features. If you want to access serious employers, you should definitely build a powerful presence on LinkedIn since you can directly strike conversations apart from engaging with potential recruiters. Since your work is already displayed on your profile along with networking benefits, LinkedIn is among the top platforms for getting cream digital marketing jobs.
Wrap Up
Thus, we can summarize the whole article with a single line: digital marketing, as a field, is constantly evolving, and there's little to do with your education or experience. Instead, it will offer you some of the most rewarding opportunities if you are industrious, ambitious, and always ready to adapt. We hope this article helps you crack a handsome paying digital marketing job soon.